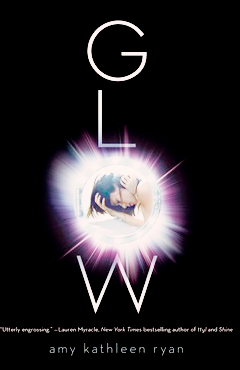 Glow
By Kathleen Ryan
Publisher: St. Martin's Griffin
Publish Date: September 13, 2011
Format: Hardback, pp 320
Age Demographic: Young Adult
b&n // amazon

What if you were bound for a new world, about to pledge your life to someone you'd been promised to since birth, and one unexpected violent attack made survival—not love—the issue?

Out in the murky nebula lurks an unseen enemy: the New Horizon. On its way to populate a distant planet in the wake of Earth's collapse, the ship's crew has been unable to conceive a generation to continue its mission. They need young girls desperately, or their zealous leader's efforts will fail. Onboard their sister ship, the Empyrean, the unsuspecting families don't know an attack is being mounted that could claim the most important among them...

Fifteen-year-old Waverly is part of the first generation to be successfully conceived in deep space; she was born on the Empyrean, and the large farming vessel is all she knows. Her concerns are those of any teenager—until Kieran Alden proposes to her. The handsome captain-to-be has everything Waverly could ever want in a husband, and with the pressure to start having children, everyone is sure he's the best choice. Except for Waverly, who wants more from life than marriage—and is secretly intrigued by the shy, darkly brilliant Seth.

But when the Empyrean faces sudden attack by their assumed allies, they quickly find out that the enemies aren't all from the outside.

*Summary taken from Goodreads.
❝My Thoughts❞
Glow is an utterly amazing, truly epic ingenious, plot driven captivating story that will leave reader's engrossed until the very end. It's full of fantastic twists, turns, and heart-pounding adventure that never stops. The depths and layers, in which Kathleen Ryan tackles, is simply beyond astounding and will leave the reader feeling incredibly satisified when they've finished the last page.

Ryan has this truly genius way of putting the reader right into the story, along with the main protagonist, and begs the question of "what would you do?" in a situation like that. Could you be brave enough to survive the fight, let alone save everyone who was left, even when there was absolutely no turning back? It is a concept and story arc that is very well established, developed, and carried out in seemingly flawless effort. Waverly, is a wonderfully crafted and developed protragonist the reader is introduced to, who comes off as very likable and possesses much more heart, strength and bravery than your average teen heroine normally would.

Waverly is taken captive and introduced to what seems like a terrifying future, when the New Horizon boards and attacks the Empyrean. So many questions become visible and secrets are revelaed along the way. It is a scary and dangerous path and Waverly and the rest of the girls must find a way to rise up and overcome this struggle. Serious issues are dealt with in such a way that it leaves the reader feeling with the character's in the novel. Oppression, violence, sex, and free choice are among many of these serious matters that are not only discussed in Glow, but also acted upon quite frequently throughout the story as it develops and pulls the reader in more deeply than before.

The villians in this story are wonderful assets that bring so much depth and intrigue of their own. They are perfectly written, well developed, strong individuals who truly believe in the choices they are making for the greater good of their people that will lend to their survival. Anne Mather is a mystery of her own making, who is so incredibly hell-bent on the mission that she believes she must carry out, and isn't afraid of doing what she feels she must (such as resorting to blackmail and/or murder) in order to make it happen. She possesses such a strong flavored personality that it's almost scary in such a fantastically written and phoneomenal way. She is what every villian in a book should resemble, because she is not afraid to make the hard choices, and carry them on her shoulders even if she becomes the most hated or feared of them all.

The love triangle that's introuduced between Kieran, Waverly, and Seth is handled in such a delightful way, that it doesn't detract from the story at all and it actually makes quite a bit of sense. There is more to Seth, than just filling out the third point in the triangle. He is quite dark and mysterious, an enthralling villian of his own making and possibly one that readers could feel a bit of sympathy for. It is very enjoyable to read, because Ryan made sure that it new its place in this story, and blended it in quite well wherever needed so as not to interfere or take over the lead.

It is apparent that there is a clear definition of good vs evil showdown here. The question remains, who will prevail when the final installment gets here? Glow leaves the reader with a cliff-hanger to end all cliff-hangers, which will send them into a virtual tail-spin waiting for the next book to follow. It is a fantastic dystopian meets deep space read and fans of The Hunger Games trilogy or Across The Universe will find this book to be an truly captivating and engrossing read.

{ This ARC was provided by ATW ARC Tours, in exchange for an honest review which I have provided. No money exchanged hands, I review books for fun because I love to read. I am not interested in monetary gain. Any piece of this ARC that was/wasn't quoted, is not part of the finished product and should not be perceived as such.}