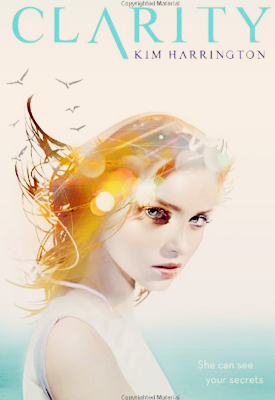 When you can see things others can't, where do you look for the truth?
This paranormal murder mystery will have teens reading on the edge of their seats.
Clarity "Clare" Fern sees things. Things no one else can see. Things like stolen kisses and long-buried secrets. All she has to do is touch a certain object, and the visions come to her. It's a gift.
And a curse.
When a teenage girl is found murdered, Clare's ex-boyfriend wants her to help solve the case--but Clare is still furious at the cheating jerk. Then Clare's brother--who has supernatural gifts of his own--becomes the prime suspect, and Clare can no longer look away. Teaming up with Gabriel,
the smoldering son of the new detective, Clare must venture into the depths of fear, revenge, and lust in order to track the killer. But will her sight fail her just when she needs it most?
View Trailer
And visit Kim Harrington's personal website
here
for more information on the author, the book, and other things to follow.
;; Book summary borrowed from goodreads.com
The Bookish Type: Review: Clarity by Kim Harrington & Giveaway
is an amazing opportunity to win a copy of this lovely book, so you should DEFINITELY participate and leave a comment on their blog for a chance to win (you never know, you could be one of the lucky one's) and also tell them what you think of their amazing blog, then visit other blogs, and do the same there.