Third Sentence Thursday is a nifty little weekly meme hosted by Sniffly Kitty's Mostly Books.

1) Take the book you are reading now and post the third sentence
2) Review this sentence anyway you want (funny and silly reviews encouraged)
3) Post a link to your sentence here or if you don't have a blog, just post it in the comments!


So, this week's Third Sentence Thursday comes from Trinity Faegen's debut novel, The Mephisto Covenant for which I nearly peed my pants the day it arrived in the mail. I'm a little over 100 and something pages into it and I AM IN FREAKING LOVE WITH IT. Seriously, this is a book that you DO NOT WANT to miss out on at all! Because, holy BOOK COVER LOVE whoa! And also, the story, which I have to say moves kind of fast paced and is very well developed not to mention sort of funny in an ironic sort of way. Also, I have to say that this was one of my top three most anticipated novels to come out this year, too. So, the fact that I was able to get an ARC of it, made my whole year. Freakin' EPIC, ya'll. ;)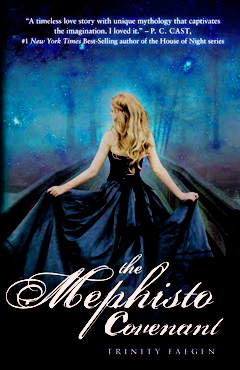 The Mephisto Covenant
By:
Trinity Faegen
ARC From Publisher:
Egmont USA
b&n
//
amazon
Published Date:
September 27, 2011
Publisher:
EgmontUSA
Book Format:
Hardback; pp 488
Age Demographic:
Young Adult
Her whole body was infused with warmth. "Are you sure this is just cider?"
"Real sure." He was cheeky again. "And maybe a little magic."
"Will it get me arrested?" (pp 90)

Sasha is desperate to find out who murdered her father. When getting the answer means pledging her soul to Eryx, she unlocks a secret that puts her in grave danger—Sasha is Anabo, a daughter of Eve, and Eryx's biggest threat.

A son of Hell, immortal, and bound to Earth forever, Jax looks for redemption in the Mephisto Covenant—God's promise he will find peace in the love of an Anabo. After a thousand years, he's finally found the girl he's been searching for: Sasha.

With the threat of Eryx looming, Jax has to keep Sasha safe and win her over. But can he? Will Sasha love him and give up her mortal life?

*Summary taken from Goodreads.