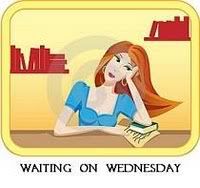 "Waiting On" Wednesday (or ya know WoW!) is a nifty little weekly event, hosted by the ever so lovely Jill at Breaking The Spine that puts the spotlight on various new and upcoming book releases that have become the"ohmigod! i gotta have this or i'll just die," eagerly anticipated.

The Space Between
By Brenna Yovanoff
Publisher: Razorbill
Publish Date: November 15, 2011
Format: Hardback, pp 352
Age Demographic: Young Adult
b&n // amazon

Everything is made of steel, even the flowers. How can you love anything in a place like this?

Daphne is the half-demon, half-fallen angel daughter of Lucifer and Lilith. Life for her is an endless expanse of time, until her brother Obie is kidnapped - and Daphne realizes she may be partially responsible. Determined to find him, Daphne travels from her home in Pandemonium to the vast streets of Earth, where everything is colder and more terrifying. With the help of the human boy she believes was the last person to see her brother alive, Daphne glimpses into his dreams, discovering clues to Obie's whereabouts. As she delves deeper into her demonic powers, she must navigate the jealousies and alliances of the violent archangels who stand in her way. But she also discovers, unexpectedly, what it means to love and be human in a world where human is the hardest thing to be.

This second novel by rising star Brenna Yovanoff is a story of identity, discovery, and a troubled love between two people struggling to find their place both in our world and theirs.

*Summary taken from Goodreads.
Okay, to say that I'm extremely excited about this book would be a bit of an understatement, because seriously - I cannot wait to have this book in my hands and devour it. It's one of my favorite things, something inhuman having to learn how to be human in a world where human is the hardest thing to be. Since Joss Whedon's days of Buffy, I haven't seen this illustrated quite as well as I'm hoping/half-believing that Brenna Yovanoff will be able to. Plus, Daphne is the daughter of Lucifer and Lilith, how cool is that?! This book has definitely shot straight up to the top of my, must own it now list.