Third Sentence Thursday is a nifty little weekly meme hosted by Sniffly Kitty's Mostly Books.

1) Take the book you are reading now and post the third sentence
2) Review this sentence anyway you want (funny and silly reviews encouraged)
3) Post a link to your sentence here or if you don't have a blog, just post it in the comments!


See what I mean, this year I've read more of the Contemp's than I ever thought I would, and I've actually really enjoyed them. I'm thinking it was a nice change from the Paranormal/Fantasy that I usually end up reading, plus I've been trying to break out of a "genre-mold" of sorts. So, the book I've chosen for this week's Third Sentence Thursday is Sometimes It Happens by Lauren Barnholdt, because in this crazy game called life "sometimes it happens."

And I mean, exactly what I'm implying there...sometimes, whatever just happens. It can either be good, bad, wrong, right, or all of the above in so many different ways for an endless amount of reasons. So far, Hannah's just stressing out about this or that, and she's hanging out alone at home on a Friday night doing the laundry.

Ya know, her bff is off to Maine for the summer, she's at home minus a summer job at the moment, and pretty much boyfriend-less. Not that she'd really want a boyfriend like Sebastian, because honestly how many ways can we say arsehole.

Oh, and there's Noah, the bff's boy-toy. So, yep...welcome to Hannah's world where, "sometimes it happens."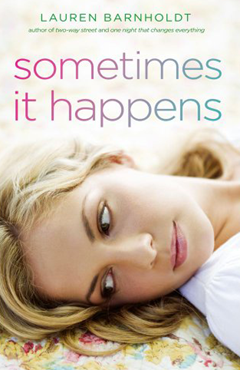 Sometimes It Happens
By:
Lauren Barnholdt
E-ARC From
S&S Galley Grab
b&n
//
amazon
Published Date:
July 12 , 2011
Publisher:
Simon Pulse
Book Format:
Hardback; pp 320
Age Demographic:
Young Adult
"Friday night. And I'm doing laundry. Although I guess it's not technically night. I mean, it's five o'clock, which is more like evening. And I guess I'm not technically doing laundry, because as soon as I put my clothes into the machine and tried to start it, the whole thing made this ridiculous horrible noise with lots of shuttering and shaking and then just...died." (pp 51)

On the last day of her junior year, Hannah's boyfriend Sebastian dumped her. Facing a summer of loneliness, Hannah turns to her best friend Ava for comfort. Ava does what BFFs do: she stays by Hannah's side...until it's time for Ava to head up to Maine for the summer. Also left behind is Ava's boyfriend, Noah, who's such a great guy he gets Hannah a job at the diner he waits tables at.

Slowly, Hannah comes out of her funk thanks to Noah's good conversation and their fun times at the diner. But things get complicated when their friendship turns into attraction--and one night, into a passionate kiss.

The novel opens on the first day of senior year; the day Hannah is going to see Ava, Sebastian, and Noah all in one place. Over the course of the day secrets and betrayals are revealed, and alliances are broken and reformed. In the end, everyone is paired up once again, but not the way you might think.

*Summary taken from Goodreads.
{Small Note: This book was received as an E-ARC through Simon Pulse via S&S Galley Grab, in exchange for an honest review which I have provided. No money exchanged hands, I review books for fun because I love to read. I am not interested in monetary gain.

The review will be coming shortly, any quotes or references may be subject to change once nove is finalized and released.}