This meme is brought to you weekly by MizB over at Should Be Reading.

Anyone can play along, just do the following:

01. Grab your current read and open to a random page
02. Share two (2) "teaser" sentences from somewhere on that page, but BE CAREFUL NOT TO INCLUDE SPOILERS! (Make sure that what you share doesn't give too much away! You don't want to ruin the book for others!)
03. Share the title and the author, too, so other TT participants can add the book to their TBR List if they like your teaser!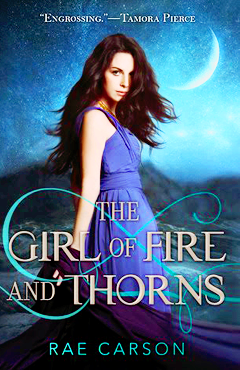 The Girl of Fire & Thorns
By:
Rae Carson
ARC From Publisher
b&n
//
amazon
Published Date:
September 20, 2011
Publisher:
Greenwillow Books
Book Format:
Hardback; pp 432
Age Demographic:
Young Adult
"Tell him about the Godstone, I say to myself. Tell him that Alodia is envious. That she is angry because I am already sixteen but show no inclination to fulfill my destiny as God's Chosen. But his open gaze demands my honesty, and I say to him what I have told no one. I killed our mother." (pp 18)

Once a century, one person is chosen for greatness.

Elisa is the chosen one.

But she is also the younger of two princesses, the one who has never done anything remarkable. She can't see how she ever will.

Now, on her sixteenth birthday, she has become the secret wife of a handsome and worldly king—a king whose country is in turmoil. A king who needs the chosen one, not a failure of a princess.

And he's not the only one who seeks her. Savage enemies seething with dark magic are hunting her. A daring, determined revolutionary thinks she could be his people's savior. And he looks at her in a way that no man has ever looked at her before. Soon it is not just her life, but her very heart that is at stake.

Elisa could be everything to those who need her most. If the prophecy is fulfilled. If she finds the power deep within herself. If she doesn't die young.

Most of the chosen do.

*Summary taken from Goodreads.
So far, I find this book to be charming, interesting, and fun to read. I'm not that far into it, but already I can tell that it's going to be fantastic adventure that you won't want to miss. Already, I'm curiously interested in this prophecy and what it has to do with Elisa and how a young woman is tasked with being "the heart of a revolution." It promises a great romance like any other and soon her heart will be in preilous turmoil and she'll have decisions to make regarding her very destiny and a prophecy fulfilled.
{Small Note: This was an ARC received from the publisher, in exchange for an honest review which I will provide. Any material quoted from this ARC is subject to change, when the book is finalized. No money exchanged hands, I review books for fun because I love to read. I am not interested in monetary gain.}