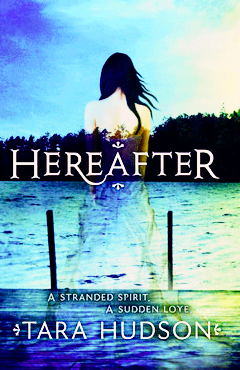 Solid
By: Tara Hudson
E-ARC Provided by Publisher via Netgalley
b&n // amazon
Published Date: June 7, 2011
Publisher: HarperTeen
Book Format: Hardback; pp 416
Age Demographic: Young Adult

Can there truly be love after death?

Drifting in the dark waters of a mysterious river, the only thing Amelia knows for sure is that she's dead. With no recollection of her past life—or her actual death—she's trapped alone in a nightmarish existence. All of this changes when she tries to rescue a boy, Joshua, from drowning in her river. As a ghost, she can do nothing but will him to live. Yet in an unforgettable moment of connection, she helps him survive.

Amelia and Joshua grow ever closer as they begin to uncover the strange circumstances of her death and the secrets of the dark river that held her captive for so long. But even while they struggle to keep their bond hidden from the living world, a frightening spirit named Eli is doing everything in his power to destroy their newfound happiness and drag Amelia back into the ghost world . . . forever.

Thrilling and evocative, with moments of pure pleasure, Hereafter is a sensation you won't want to miss.

*Summary taken from Goodreads.
❝My Thoughts❞
Hereafter is a beatiful story that gives a unique twist to the average ghost story told. It is thrilling, mesmorizing, introspective, and captivating. It boldly asks the question of whether there can be life after death and just how much do you really start living once your dead?

Hudson has such a way with words, that the imagery drawn from them leaves you almost as breathless as the colors of the cover draws your eye to attention. The character's are very well fleshed out and developed, and she pays special care to the plot. And for as much as I loved Hereafter a great deal, I have to admit that upon my initial first thought - I wondered how Hudson was going to pull off a romance between a mortal and a ghost. She simply surpassed my highest expectations, because this is a novel that I absolutely could not put down, once I started to read. I was glued to my seat and enraptured by the story she had to tell.

Joshua isn't just a mere mortal boy, he's a seer - someone who is able to see the paranormal. They are supposed to use their gift of sight against ghosts or evil unclean spirits of the paranormal. In order to sense the ghosts or spirits of the paranormal, you have to experience a "triggering event." In Joshua's case, meeting a dead girl right after his heart stops. The thing is, he wasn't expecting the first ghost that he came in contact with to be Amelia nor did he expect her to try and save him in the process. This is what makes the two of these characters and their developing relationship, so interesting.

Amelia, possesses a uniqueness all her own. She's strong, beautiful, and very likable in so many ways. Instantly, so many questions rose to the surface, where she was concerned. Who was she? What happened to her? Where did she come from and what was her connection to the darkness under High Bridge, what the Afterworlds are, and what part did Eli seem to play in it?

And this brings me to Eli, dark, mysterious, and wanting to practically drag Amelia back to the darkness of the ghost world in an effort to keep her with him. I LIKED HIM. I know you're not supposed to, that he was supposed to be the character that you're very well supposed to dislike, but I didn't. He was interesting, he was dark, and there was a mystery that surrounded him. He was an un-clean spirit, one that Ruth (Joshua's grandmother), had warned about. He was not to be trusted and yet, I couldn't make myself hate someone that seemed so interesting. I think this has to do with the story of Eli's human life making him seem more, well...human.

He is not exactly what he seems. Yes, he comes across as power hungry, cruel, and prideful. But, there's something else there, something deeper that commands me to enjoy a character with such depths. Not since Joss Whedon's Buffy the Vampire Slayer days spent giving us Spike or L.J. Smith's Damon from The Vampire Diaries, have I seen a character quite like this one leap to life from the pages of a book that I drank in a dizzying rush of emotion and something that made me see something more than what was on the surface. I didn't mind, delving into the murky depths of Eli's dark fascade to get to who he really is and it is both cruely delicious and human in some ways, compelled by a darkness that decends on all who crosses his path. He is a villian and it is absolutely delicous.

As I mentioned before, Hereafter, features a sweet budding romance between a ghost and a mortal, in Tara Hudson's debut novel. It is interesting how Amelia and Joshua met and their romance developed over the course of the novel. Hudson explores the depths of self-discovery, love, and the art of connecting with someone on a deeper level of bonding all wrapped up in a nice little paranormal package.

There is something more between these two characters, something more than just the fact that Joshua is a Seer and Amelia's being a ghost. The love that develops between these character's is sweet and very believable. It develops naturally and in such a way that makes the reader want that same happiness, the two want, for themselves.

The story Hereafter entails what I like to affectionately refer to as the mystery of Amelia's ghost amnesia and continues to build on itself throughout, as you turn the pages and read further. There is a curiosity in what will come next, what question will be presented, and the answer that is sure to follow. It is a fast-paced, action-packed novel that will leave the reader wondering what's sure to happen next. I found it to be greatly exciting and invigorating, which is why I have no problem giving this novel a full five stars.

{Small Note: This book was received from HarperTeen via Netgalley, in exchange for an honest review which I have provided. No money exchanged hands, I review books for fun because I love to read. I am not interested in monetary gain.}