This meme is brought to you weekly by MizB over at Should Be Reading.

Anyone can play along, just do the following:

01. Grab your current read and open to a random page
02. Share two (2) "teaser" sentences from somewhere on that page, but BE CAREFUL NOT TO INCLUDE SPOILERS! (Make sure that what you share doesn't give too much away! You don't want to ruin the book for others!)
03. Share the title and the author, too, so other TT participants can add the book to their TBR List if they like your teaser!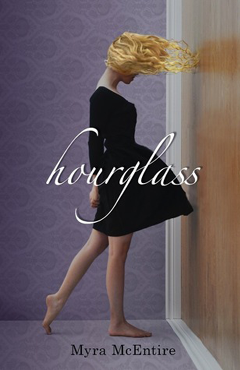 Hourglass
By Myra McEntire
Publisher: EgmontUSA
Publish Date: June 14, 2011
Format: Hardback, pp 400
Age Demographic: Young Adult
b&n // amazon

"My impulses moved from kicking to punching, spurred on by my own anger and the fact that, before yester's incident in my bedroom, I had trusted Michael.

"I won't mind own business. You show up, tell me you understand me and that I should trust you. And then you won't tell me the truth."" (pp 84)

One hour to rewrite the past . . .

For seventeen-year-old Emerson Cole, life is about seeing what isn't there: swooning Southern Belles; soldiers long forgotten; a haunting jazz trio that vanishes in an instant. Plagued by phantoms since her parents' death, she just wants the apparitions to stop so she can be normal. She's tried everything, but the visions keep coming back.

So when her well-meaning brother brings in a consultant from a secretive organization called the Hourglass, Emerson's willing to try one last cure. But meeting Michael Weaver may not only change her future, it may change her past.

Who is this dark, mysterious, sympathetic guy, barely older than Emerson herself, who seems to believe every crazy word she says? Why does an electric charge seem to run through the room whenever he's around? And why is he so insistent that he needs her help to prevent a death that never should have happened?

Full of atmosphere, mystery, and romance, Hourglass merges the very best of the paranormal and science-fiction genres in a seductive, remarkable young adult debut.

*Summary taken from Goodreads.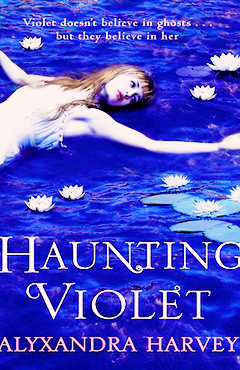 Haunting Violet
By Alyxandra Harvey
Publisher: Walker Childrens
Publish Date: June 21, 2011
Format: Hardback, pp 352
Age Demographic: Young Adult
b&n // amazon

"I'd made her angry and vulnerable and I didn't need to be told she wouldn't forgive me for it. I knew girls like Tabitha - I'd been raised by one. She would need some kind of revenge. I didn't know how to tell her she needn't bother expending all that effort on my behalf; I was hardly competition. If I could convince her of what she already suspected - that I was beneath her notice 0 things would be easier for me." (pp 69)

Violet Willoughby doesn't believe in ghosts. But they believe in her. After spending years participating in her mother's elaborate ruse as a fraudulent medium, Violet is about as skeptical as they come in all matters supernatural. Now that she is being visited by a very persistent ghost, one who suffered a violent death, Violet can no longer ignore her unique ability. She must figure out what this ghost is trying to communicate, and quickly because the killer is still on the loose.

Afraid of ruining her chance to escape her mother's scheming through an advantageous marriage, Violet must keep her ability secret. The only person who can help her is Colin, a friend she's known since childhood, and whom she has grown to love. He understands the true Violet, but helping her on this path means they might never be together. Can Violet find a way to help this ghost without ruining her own chance at a future free of lies?

*Summary taken from Goodreads.