Third Sentence Thursday is a nifty little weekly meme hosted by Sniffly Kitty's Mostly Books.

1) Take the book you are reading now and post the third sentence
2) Review this sentence anyway you want (funny and silly reviews encouraged)
3) Post a link to your sentence here or if you don't have a blog, just post it in the comments!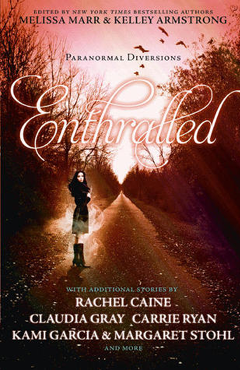 Enthralled: Paranormal Diversions
By Kelley Armstrong & Various Authors
Publisher: HarperCollins
Publish Date: , 2011
Format: Paperback, pp 464
Age Demographic: Young Adult
b&n // amazon

"Until we were four years old, neither of us spoke; we each understood the other without words, and nobody else was as important. There were mom and dad, of course, but they always recognized our bond." (pp ;; 01)


| Giovanni's Farewell ;; Claudia Gray|



A journey may take hundreds of miles, or it may cover the distance between duty and desire.

Sixteen of today's hottest writers of paranormal tales weave stories on a common theme of journeying. Authors such as Kelley Armstrong, Rachel Caine, and Melissa Marr return to the beloved worlds of their bestselling series, while others, like Claudia Gray, Kami Garcia, and Margaret Stohl, create new land-scapes and characters. But whether they're writing about vampires, faeries, angels, or other magical beings, each author explores the strength and resilience of the human heart.

Suspenseful, funny, or romantic, the stories in Enthralled will leave you moved.

*Summary taken from Goodreads.