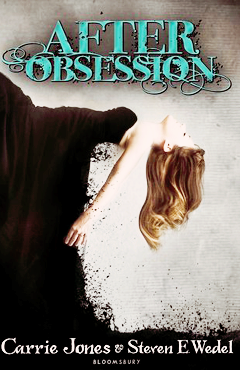 After Obsession
By:
Carrie Jones and Steve Wedel
ARC From BloomsburyTeen
b&n
//
amazon
Published Date:
September 13, 2011
Publisher:
Bloomsbury USA Childrens
Book Format:
Hardback; pp 320
Age Demographic:
Young Adult
Aimee and Alan have secrets. Both teens have unusual pasts and abilities they prefer to keep hidden. But when they meet each other, in a cold Maine town, they can't stop their secrets from spilling out. Strange things have been happening lately, and they both feel that something-or someone- is haunting them. They're wrong.

Despite their unusual history and powers, it's neither Aimee nor Alan who is truly haunted. It's Alan's cousin Courtney who, in a desperate plea to find her missing father, has invited a demon into her life-and into her body. Only together can Aimee and Alan exorcise the ghost. And they have to move quickly, before it devours not just Courtney but everything around her.

Filled with heart-pounding romance, paranormal activity, and rich teen characters to love-and introducing an exciting new YA voice, Steven Wedel-this novel is exactly what Carrie Jones fans have been waiting for. Meet your next obsession.

*Summary taken from Goodreads.
❝My Thoughts❞
After Obsession is an intriguing novel, full of suspense that will grab the reader's attention almost immediately. What makes After Obsession so interesting, is the paranormal elements paired with Native American traditions. There character's are well developed, the plot gives a unique spin on possession in general, and the imagery is so well penned that it puts the reader in the story along with the character's giving them a chance to experience the adventure as well.

Jones and Wedel are able to incorporate the supporting characters in such a way, that they end up providing some pretty good insight into the events of the story unfolding. It's a rather supsensful and thrilling journey, this story takes the reader on and one they won't want to miss out on. It's filled with strong, independent character's who aren't afraid to jump in and do what they need to in order to keep the darkness from winning. These are attributes that make them shine, so well.

The connection shared between the two main protragonists, was handled fantastically well. I personally enjoyed their connection and applauded Jones and Wedel for not turning this connection into insta-love. Both of these character's possess flaws, but they are so well developed that those flaws don't work against them in contrasting with the story and their task at hand.

It was certainly interesting to read about Alan's Indian Warrior Spirt and all of the insights into Native American tradition and to see the way they so flawlessly tied in River Man. All of these things, make After Obsession a very creepy, suspenseful read that will give the reader goosebumps and have them wary of things that go bump in the night. The psychological edge, is thriller enough to make me want to read it again, personally.

{ This ARC was provided by Bloomsbury Teens, in exchange for an honest review which I have provided. No money exchanged hands, I review books for fun because I love to read. I am not interested in monetary gain. Any piece of this ARC that was/wasn't quoted, is not part of the finished product and should not be perceived as such.}