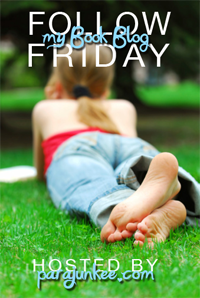 Happy Follow Me Friday, everyone! The long and short of it, life is crazy and reading is my life, basically. So, yeah this feature is awesomesauce.

Go visit Parajunkee's View or Allison Can Read, to get the deets on it and start having some fun. It's all about meeting some new people, finding new blogs to follow, and basically just having fun with awesome people.



This week the two awesome features are Shannon McGee @ Confuzzled Books and Sophie @ Life Between The Pages. Both of these girls are utterly wonderful and hella fun and cute. So, you should definitely go check out their blogs, make 'em feel more welcome, and just basically show 'em so love.




THE QUESTION OF THE WEEK





"If you could have characters from a book meet and form an epic storyline with characters from a TV series, which characters would you choose and why?"





I think I'd probably cross The Ghost Whisperer (featuring Jennifer Love-Hewitt as Melinda Gordon) with Paula Morris's novel, Dark Souls. Melinda could help the ghosts move on from whatever was holding them back, while helping the Tennant's to greive and learn to move on from their horrible tragedy. Plus, I think Melinda could definitely help Miranda out with her new found gift of seeing ghosts and give her some advice on how to deal with it.



Brought to you by the ever awesome and fiercely amazing CRAZY FOR BOOKS. Want to make a connection with a fellow blogger? Feel the need for a few new followers? Or you just want to spread some blogger spirit and love? Well, this is totally the "blogger hop" for you and you can find out how to do all that at CRAZY FOR BOOKS.






THE QUESTION OF THE WEEK





"What is your favorite spooky book (i.e. mystery/suspense, thriller, ghost story, etc.)?"





I have a fondness that's more of a weakness for Anne Rice. I much prefer her vampires to those of Stephanie Meyer's. They're not vegetarian, they don't sparkle, and they actually act like vampires. So, some of my favorite books to read around this time of year (Halloween) are Interview With A Vampire and Queen of the Damned. Witches are my favorite of the paranormal that she writes for and I always love to re-read The Witching Hour around this time of year.

When I was younger, it was all about Christopher Pike and I read quite a bit of his books. I loved how spooky and scary they were, but they were also fun to read. I actually preferred him to R.L. Stein. Some of my favorites of his were always, Witch, Die Softly, The Wicked Heart and The Grave. I remember at the time that I had a pretty healthy collection of Christopher Pike books going, now I wish I could remember where I have them all boxed up. They were definitely some of my favorite reads.