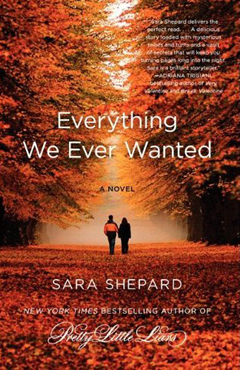 Everything We Ever Wanted
By: Sara Shepard
ARC Provided by Publisher via TLC Book Tours
b&n // amazon
Published Date: October 11, 2011
Publisher: HarperCollins
Book Format: Paperback; pp 352
Age Demographic: Adult

A recently widowed mother of two, Sylvie Bates-McAllister finds her life upended by a late-night phone call from the headmaster of the prestigious private school founded by her grandfather where her adopted son Scott teaches. Allegations of Scott's involvement in a hazing scandal cause a ripple effect, throwing the entire family into chaos. For Charles, Sylvie's biological son, it dredges up a ghost from the past who is suddenly painfully present. For his wife Joanna, it forces her to reevaluate everything she's hoped for in the golden Bates-McAllisters. And for Scott, it illuminates harsh truths about a world he has never truly felt himself a part of.

But for all the Bates-McAllisters, the call exposes a tangled web of secrets that ties the family together: the mystery of the school hazing, the event that tore Charles and Scott apart the night of their high school awards ceremony, and the intended recipient of a certain bracelet. The quest to unravel the truth takes the family on individual journeys across state lines, into hospitals, through the Pennsylvania woods, and face-to-face with the long-dormant question: what if the life you always planned for and dreamed of isn't what you want after all?

"Sara Shepard delivers the perfect read….A brilliant storyteller." — Adriana Trigiani, bestselling author of Very Valentine and Brava, Valentine

"[Written] with unflinching honesty and unstinting compassion." — Jacquelyn Mitchard, author The Deep End of the Ocean

"This riveting, provocative and well-crafted family drama surprised and delivered at every turn. I could not put it down." — Sarah Mlynowski, author of Ten Things We Did (and Probably Shouldn't Have)

*Summary taken from TLC Book Tours.
❝My Thoughts❞
In Sara Shepard's novel Everything We Ever Wanted there are varying shades of relatable characters that we, as reader's, are introduced to. This may make reading this book a bit uncomfortable at times, but it also helps to enlighten the reader as well. Shepard is a well-rounded seasoned author who has tackled many an issue in previous novels, such as her Pretty Little Liars and The Lying Game series. She is quite versed in penning and seemlessly incoporating the mystery element into her novels, quite flawlessly.

The way in which she writes her characters, is both natural and relatable. Some would argue, almost a bit too relatable but that's when you know an author is doing something right. When they possess the ability to take the their time in cultivating these characters and developing storyline's for them that cause the reader to self-reflect a bit and see shades of themselves in the characters presented. Everything We Ever Wanted may not be everything these character's thought it would be, nor what they necessarily hope for. There's a reason why we're told as children and adults, to be careful what we wish for because it might not be everything that we thought it would be.

In other words, it might not be everything we want.

Shepard manages to tackle the lack of communication in Sylvie's family, in such a way that's so real and honest, something that I personally think hits home more than anything and shows that sometimes when you do have everything, you find that you really don't. All of the monetary status in the world, isn't going to buy you a family that's built on honesty if you can't open up and talk to one another, and Shepard does a fantastic job of illustrating that in this novel. She goes gon to show the reader, that sometimes no matter how much a person tries, things just can't be fixed that easily with money or with words that contain hollow meaning after there's been such a lack of communication.

Everything We Ever Wanted is a mature emotionally written novel, that is sure to leave the reader introspectively examining themselves and their personal or moral values long after turning the last page. The only quibble that I would personally have with the book, would be the pacing. At times, it seemed to move a bit slow. Other than that, it is a wonderfully written and well developed book that is worth any reader's time.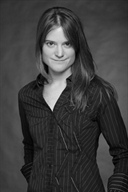 Sara Shepard graduated from New York University and has an MFA in creative writing from Brooklyn College. The author of the bestselling young adult books Pretty Little Liars and The Lying Game, as well as the adult novel The Visibles. She lives outside Philadelphia with her husband and dogs.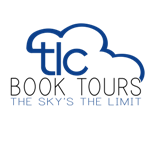 Note: That last link above in the bulleted list, is where you can find the rest of the book tour stops and read some more fascinating and insightful reviews of Everything We Ever Wanted by Sara Shepard.


{ This book was received from HarperCollins via TLC Book Tours, in exchange for an honest review which I have provided. No money exchanged hands, I review books for fun because I love to read. I am not interested in monetary gain.}