Third Sentence Thursday is a nifty little weekly meme hosted by Sniffly Kitty's Mostly Books.

1) Take the book you are reading now and post the third sentence
2) Review this sentence anyway you want (funny and silly reviews encouraged)
3) Post a link to your sentence here or if you don't have a blog, just post it in the comments!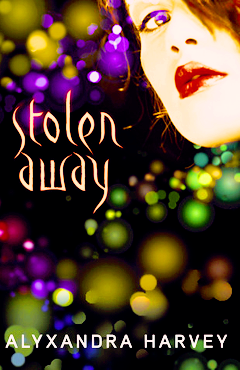 Stolen Away
By Alyxandra Harvey
Publisher: Walker Childrens
Publish Date: January 17, 2012
Format: Hardback, pp 288
Age Demographic: Young Adult
b&n // amazon

"It was like water trickling in a river bed, slowly at first, then with greater momentum until mud pushed its way into every crevice, dislodging rocks that seemed solid and heavy. I was full of dislodged stones.

I was remembering things. Little things that didn't seem important at first glance, but felt important nonetheless. It was disorienting." (pp ;; 45)

For seventeen years, Eloise Hart had no idea the world of Faery even existed. Now she has been abducted and trapped in the Rath of Lord Strahan, King of Faery. Strahan was only meant to rule for seven years, as Faery tradition dictates, and then give up his crown to another. But he won't comply, and now chaos threatens both worlds.

The only one who can break his stranglehold on the Faery court is his wife. . . Eloise's aunt Antonia. Using Eloise to lure Antonia, Strahan captures his wife, desperate to end the only threat to his reign. Now Eloise must become the rescuer. Together with her best friends Jo and Devin, she must forge alliances with other Fae, including a gorgeous protector named Lucas, and Strahan's mysterious son, Eldric—who may or may not betray them.

*Summary taken from Goodreads.
I've only just started this book, but I can already tell that it's turning into quite a spectacular tale of romance and adventure. Plus, faeries. I so love a great book that involves the mystical and entrancing world of the fey, filled with dangerous peril, heart-pounding (possibly forbidden) romance, and epic adventures that await the main protag. It seems to be quite promising and more.
{ This ARC was provided by ATW ARC Tours, in exchange for an honest review which I have provided. No money exchanged hands, I review books for fun because I love to read. I am not interested in monetary gain. Any piece of this ARC that was/wasn't quoted, is not part of the finished product and should not be perceived as such.}