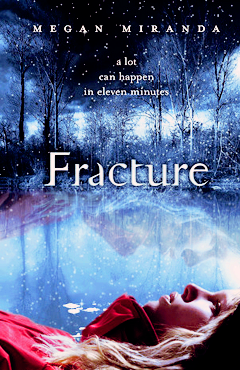 Fracture
By Megan Miranda
Publisher: Walker Childrens
Publish Date: January 17, 2012
Format: Hardback, pp 272
Age Demographic: Young Adult
b&n // amazon

"The first time I died, I didn't see God. No light at the end of the tunnel. No haloed angels. No dead grandparents.

To be fair, I probably wasn't a solid shoo-in for Heaven. But, honestly, I kind of assumed I'd make the cut.

I didn't see any brimstone, either.

Not even an endless darkness. Nothing." (pp 01)



Eleven minutes passed before Delaney Maxwell was pulled from the icy waters of a Maine lake by her best friend Decker Phillips. By then her heart had stopped beating. Her brain had stopped working. She was dead. And yet she somehow defied medical precedent to come back seemingly fine

-despite the scans that showed significant brain damage. Everyone wants Delaney to be all right, but she knows she's far from normal. Pulled by strange sensations she can't control or explain, Delaney finds herself drawn to the dying. Is her altered brain now predicting death, or causing it?

Then Delaney meets Troy Varga, who recently emerged from a coma with similar abilities. At first she's reassured to find someone who understands the strangeness of her new existence, but Delaney soon discovers that Troy's motives aren't quite what she thought. Is their gift a miracle, a freak of nature-or something much more frightening?

For fans of best-sellers like Before I Fall and If I Stay, this is a fascinating and heart-rending story about love and friendship and the fine line between life and death.

*Summary taken from Goodreads.
❝My Thoughts❞
Fracture is an amazing highly intense, heart pounding novel that is incredibly heart-wrenching. The simple range of emotion explored in this book, is so real and palpable that reader's can almost experience what the main protagonist (Delaney) is going through, when she wakes up from her horrifying accident. Miranda writes simply from the heart comprised of simple structure, that the journey and questions asked and answered and not answered for Delaney, are so emotionally compelling that you can't help but ache with her given the situation she's woken up to.

It is incredibly hard not to feel for Delaney as she struggles with survior's guilt, at times becomes a bit self-destructive, and is dealing with the fact that she is brain damaged. She isn't the same as she was before, yet there's the question of is this a miracle or is this some sort of paranormal experience? Miranda does a wonderful job of marrying the two idea's and blending them quite well. The emotion Miranda packs into this novel, is powerful and quite palpable enough that the reader experiences things as Delaney goes through the motions of figuring out what to do next.

There is a gripping and chilling fear palpitating through Delaney's veins as she tries to figure out whether or not she can trust the dark and mysterious Troy Varga. He seems to possess a very different outlook on their similar situations. Delaney, on the other hand, doesn't necessarily agree with him. In a moment, he becomes something much more frightening to her. Yet, there seems to be this strong magnetic pull towards him, that she can't quite stop herself from feeling. She is attracted to him and in a way, I personally think that scares her a bit.

Miranda pens a beautifully poingant story of deep love and loyal friendship, with just a hint of paranormal mystery flourishing. Though, there is but a hint of paranormal mystery involved, this book doesn't possess demons, witches, or any supernatural beings of any kind. It does, however, beg the question of whether what happens to Delaney is a miracle or if it actually is a bit paranormal than most would like to believe. Fracture is wonderfully written and developed psychological thriller that is equal parts engaging, as it is suspensful, touching, and spectacular.

The writing style is clean and cripst and the story is tightly written, but Miranda tackles the medical aspects of this novel in such a realistic way that her attention to detail is absolutely spot on and almost flawless. The way in, which, some of the scenes have been written are quite entrancing and I've no doubt that reader's will be enraptured as the story continues to unfold. The concept of Fracture is absolutely gripping and will be sure to keep reader's engaged until the last page has been turned.

In short, Fracture is a wonderfully written novel that is incredibly memorable and should definitely be added to everyone's "to-be-read" pile. I'm sure that fans of Gayle Forman, Lauren Oliver, and Deb Caletti will be sure to love this incredibly touching and mystical novel.

{ This ARC was provided by ATW ARC Tours, in exchange for an honest review which I have provided. No money exchanged hands, I review books for fun because I love to read. I am not interested in monetary gain. Any piece of this ARC that was/wasn't quoted, is not part of the finished product and should not be perceived as such.}