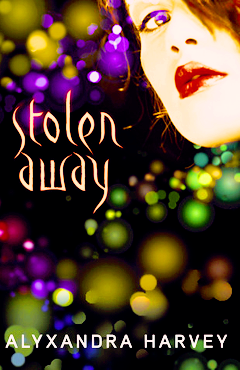 Stolen Away
By Alyxandra Harvey
Publisher: Walker Childrens
Publish Date: January 17, 2012
Format: Hardback, pp 288
Age Demographic: Young Adult
b&n // amazon

"It was like water trickling in a river bed, slowly at first, then with greater momentum until mud pushed its way into every crevice, dislodging rocks that seemed solid and heavy. I was full of dislodged stones.

I was remembering things. Little things that didn't seem important at first glance, but felt important nonetheless. It was disorienting." (pp ;; 45)

For seventeen years, Eloise Hart had no idea the world of Faery even existed. Now she has been abducted and trapped in the Rath of Lord Strahan, King of Faery. Strahan was only meant to rule for seven years, as Faery tradition dictates, and then give up his crown to another. But he won't comply, and now chaos threatens both worlds.

The only one who can break his stranglehold on the Faery court is his wife. . . Eloise's aunt Antonia. Using Eloise to lure Antonia, Strahan captures his wife, desperate to end the only threat to his reign. Now Eloise must become the rescuer. Together with her best friends Jo and Devin, she must forge alliances with other Fae, including a gorgeous protector named Lucas, and Strahan's mysterious son, Eldric—who may or may not betray them.

*Summary taken from Goodreads.
❝My Thoughts❞
Stolen Away is quite a spectacular tale of romance and adventure. It's a wonderfully written book that involves the mystical and entrancing world of the fey, filled with dangerous peril, heart-pounding (possibly forbidden) romance, and epic adventures that await the main protagonist. The fae world is not only enticing, but fascinating as well. Harvey's special care in creating such an amazing world that provides an earthy backdrop for her characters, and the originality of the story she tells has introduced an interesting take on the world of the fae in general. One of my favorite things regarding the faeries and the different courts, was that the fae could shift into various animals and take on their forms.

The character's were well written and established. Even though Eloise was the main protagonist of the novel, Jo ended up being my personal favorite. I enjoyed the fact that she walked to the beat of her own drum and possessed so much spunk and just seemed very likable and fun. The bond of friendship that Eloise, Jo, and Devin shared made this book even more fun to read. Their loyalty to one another, went above and beyond at times and made them even more likeable. Harvey did a wonderful job with character development and giving each of these character's their own sense of style and purpose, that possessed just the right amount of flare to have any reader falling in love with them.

I appreciated the fact that there wasn't a love triangle introduced into this story, like so many young adult books tend to over-use. I think my favorite love connection to read about was the one happening between Jo and Eldric. They had a very interesting dymanic going on between them, because neither Jo or the rest of them can ever really know for sure whether or not Eldric will betray them or continue to help them. Plus, there's something so forbidden about these two, that makes me appreciation them even more. It's almost hard to describe, but there's this burning snap, crackle, and pop of fire between them - the perfect mix of chemistry to balance the other one out.

Stolen Away is a fast-paced, beautiful look at the world of fey, that will defintiely keep anyone who enjoys fantasy novels entranced. The world Harvey has created is not only magical, but is filled with such richness and splendor in the story it has to tell and the history of the different fae courts interwoven amongst. I would definitely recommend this book to anyone who is a fan of Melissa Marr, Holly Black, or Julie Kagawa.

{ This ARC was provided by ATW ARC Tours, in exchange for an honest review which I have provided. No money exchanged hands, I review books for fun because I love to read. I am not interested in monetary gain. Any piece of this ARC that was/wasn't quoted, is not part of the finished product and should not be perceived as such.}