Today, I am lucky enough to have the author of Dearly, Departed on the blog, featuring in a guest post on The New Victorian's. If you haven't been lucky enough to read this wonderful novel yet, then I encourage you to pick up a copy as it's quite an amazing read.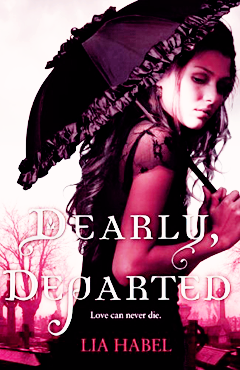 Dearly, Departed
By Lia Habel
Publisher: Del Rey
Publish Date: October 18, 2011
Format: Hardback, pp 480
Age Demographic: Young Adult
b&n // amazon

Love can never die.

Love conquers all, so they say. But can Cupid's arrow pierce the hearts of the living and the dead—or rather, the undead? Can a proper young Victorian lady find true love in the arms of a dashing zombie?

The year is 2195. The place is New Victoria—a high-tech nation modeled on the manners, mores, and fashions of an antique era. A teenager in high society, Nora Dearly is far more interested in military history and her country's political unrest than in tea parties and debutante balls. But after her beloved parents die, Nora is left at the mercy of her domineering aunt, a social-climbing spendthrift who has squandered the family fortune and now plans to marry her niece off for money. For Nora, no fate could be more horrible—until she's nearly kidnapped by an army of walking corpses.

But fate is just getting started with Nora. Catapulted from her world of drawing-room civility, she's suddenly gunning down ravenous zombies alongside mysterious black-clad commandos and confronting "The Laz," a fatal virus that raises the dead—and hell along with them. Hardly ideal circumstances. Then Nora meets Bram Griswold, a young soldier who is brave, handsome, noble . . . and dead. But as is the case with the rest of his special undead unit, luck and modern science have enabled Bram to hold on to his mind, his manners, and his body parts. And when his bond of trust with Nora turns to tenderness, there's no turning back. Eventually, they know, the disease will win, separating the star-crossed lovers forever. But until then, beating or not, their hearts will have what they desire.

In Dearly, Departed, romance meets walking-dead thriller, spawning a madly imaginative novel of rip-roaring adventure, spine-tingling suspense, and macabre comedy that forever redefines the concept of undying love.

*Summary taken from Goodreads.
❝The New Victorian's❞
Lia Habel
One of the best compliments I've ever received was given to me at a party where I was dressed in a full Victorian ball gown. Many people had gushed over the gown itself that evening, but the penultimate compliment had nothing to do with cut or trimming. It came from a lovely woman, who told me, "You look so at ease in that outfit. You look natural. You look as if everyone else is wearing the same thing, like it's completely normal."

For me, it is. And that's because I chose to make it so.

When I was a little girl, I was obsessed with the Victorian and Edwardian eras. I longed to be a delicate Victorian maiden in gorgeous dresses, cavorting (neatly! I wanted to be a very good little girl, and I had to learn how to be wicked later on) about vast gardens and through long statue-lined halls. My mother read me LITTLE WOMEN and DADDY-LONG-LEGS and SHERLOCK HOLMES and THE JUNGLE BOOK. I ate up PBS miniseries and stared pathetically at the paintings of long-dead founders each time we went to the library or an art museum. At one point as a very little child, I was apparently convinced that Stevie Nicks, in her Edwardian-inspired suits, was somebody I personally knew. (I have no conscious memory of this, but my mother swears I very nearly crawled up the wall upon seeing a particular album cover. Apparently we knew one another in a past life, and that woman owes me money.)

What appealed to me, at first, was the apparent beauty of it all. The buildings were beautiful, the books were beautiful, the clothes were beautiful. The women seemed somehow indefinably courageous, even as they were drowning in finery. Their wide dresses seemed designed to keep the world at bay – like personal fortresses built of silk and lace. They stood inside them calm, poised, like military commanders. To me, a shy and retiring child, this was strength. It also seemed like the entire world was then open for exploration. There was room to breathe, room to marvel, room for innocence. I felt, especially as a teenager, like everything had already been discovered and used up and spit out, like the world was a terribly ugly place.

As I grew up and reached the point where I was able to accept harder truths, to learn about the darker and seedier side of my favorite era, this actually only increased my love for it. The grit seemed grittier, the sleaze sleazier, the slang more shocking and everything more horrible and painful and sinful. Nothing ever changes, and I found Victorian instances of moral panic and greed and environmental destruction and gossipy drama sort of darkly hilarious, almost life-affirming. I've spoken elsewhere about my inherent love of the monstrous and deformed; this love also instantly encompassed the shadows lurking at the edges of Victorian history.

I also had an incredibly overactive imagination, as you can clearly see.

My love of Victoriana has followed me my entire life. It survived its conversion from childish idealism to realism, and in recent years has increasingly defined my lifestyle choices. However, I rarely find myself looking back and wondering how I can live a more "authentic" Victorian or steampunk lifestyle; instead I often find myself wondering how one might be a New Victorian, today. Because as much as I love the past, I'm very happily a child of the present. I love the Internet, smartphones, and horror movies rife with CGI explosions, and I could never give them up. Oh, and voting. I really like voting.

So, when I sat down to write DEARLY, DEPARTED, I decided to create my vision of a Victorian-inspired future. (After all, the book was only meant to entertain myself and my friends; I had no idea it would get this far.) The New Victorian tribe in the world of D,D is one that is openly modeling itself on whatever information has survived concerning the "First Victorians" – but, like me, they're not seeking full authenticity. Instead, they use futuristic technologies to help them retrocede. Need a fancy Victorian building? Throw up a concrete shell and project an intricate holographic façade onto it. Need a gown for the opera? Design it on a computer and email it to a seamstress. Want to make sure as many men as possible see your ad for top hats? Make sure you select the right demographic information when you're working with the ad designers, so that the ad can be flashed at men on the omnibus who have the right public age and interest information recorded on their government-issued sub-dermal ID chips.

These questions fascinate me, and they're questions I often ask myself in "real life." Instead of wondering, "What would or could the Victorians have had that was like a cell phone?" I just outright ask, "How would a Victorian use a cell phone?" What sort of background would a Lord choose? How would Victorian teenagers text one another? Need to issue the cut direct to a social inferior? There's an app for that! In a larger sense, I get to ask myself questions like, "How much freedom do futuristic Victorian teenagers have, compared to actual Victorian teenagers?" and "How do these people draw the line? No one wants to recreate an era of slavery and massive racial injustice, for instance – how do they deal with things like that?"

Of course, we get to view all of this activity through another lens, too – because my second tribe, the Punks, see the New Victorians as completely wrong-headed. They do value authenticity and personal freedom – the artisan over the computerized factory, the great greasy "honest" machine to the one that's hidden behind a wall of plastic, the local farmer over someone who just happens to have "Lord" in front of his name. They're the analog to the NVs' digital. Through them I get to deal with questions more closely related to the steampunk philosophy and aesthetic, which is equally interesting. (I usually refer to the New Victorian philosophy and aesthetic as "cyber-Victorian.")

And all of this has come about through my own personal reflections and life choices. I really hope that one continues to influence the other – not because I want to live as a character in one of my books, but because the content in the books has come about in a very organic way from my own experiences, and I hope it continues to do so.

I'm grateful for so many things, but the thing I'm most grateful for is the opportunity to live out even more of my Neo-Victorian dreams. Since starting this venture, I've had several moments where I've looked about and realized, "Oh my God…I really am at the ball." There really are handsome men with top hats and cravats whom I know personally, now. There are amazing artists and musicians and tailors and chemists and engineers out there who are all seeking their own alternate history or historical future – people I was either too in awe of to even consider approaching before, or too shy of. I'm still shy – I still keep to myself. But to know that I'm not the only one who feels this way is incredible, and I'm so overwhelmed by it all that sometimes I can scarcely breathe. That's the one thing I keep hoping those who need it will see and understand – that no matter what you dream of, you can make it real if you want it badly enough. I just wanted to wear gorgeous dresses.
Now, I wear them – and I wear them naturally.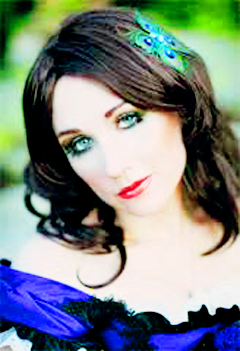 Lia Habel was born in Jamestown, NY – as far as it's physically possible to get from New York City and still be in the same state, and official spooky abandoned farmhouse territory. As an only child of good geek stock (her mother still attends San Diego Comic-Con yearly, and her father is still an early tech adopter), young Lia was lovingly reared on horror movies, video games, and Victorian novels. She developed an affection for horror movie monsters early on, often challenging her weary mother with lists of reasons why Jason Voorhees might yet be saved or excuses for Darkman's cackling insanity. As she grew older and her natural sympathy extended to ever more serial killers, swamp monsters, sentient fanged beasts, and reanimated gents, her mother began to worry what her daughter might one day bring home.

Despite this promising start, Lia went on to live an unremarkable life. Although she entertained vague thoughts of one day writing (comic books, specifically), it was only her love of literature that compelled her to pursue her B.A. in English Lit from SUNY Buffalo. Afterwards, ever the generalist and lover of Old Things, Lia moved to the UK to attend the University of Leicester and get her M.A. in Museum Studies. Several scattered internships and jobs followed, but Lia was never able to obtain long-term, serious work in her chosen field. In order to support herself, she at different times worked as a makeup artist, retail clerk, envelope-opener, door guard, and substitute teacher. Success never seemed to be hers, and she wrote the first draft of Dearly, Departed while unemployed for the fifth or sixth time. She had all of $10 in her bank account when she received her first check for it.

Miss Habel currently still lives in Jamestown, with three former alley cats and far too many Victorian ball gowns. She enjoys attending anachronistic and steampunk events, watching zombie movies (her goal is to watch every zombie movie ever made), and collecting Victorian and Edwardian books. She still hopes one day to run into the beautiful monster of her dreams, but would settle for the reincarnation of Vincent Price.

*Bio taken from liahabel.com.
❝Find Her Here❞
Website
|
Blog
|
Twitter
|
Facebook
|
Goodreads
❝Purchase Dearly, Departed Here❞
Amazon
|
Barnes&Nobles
|
Indiebound