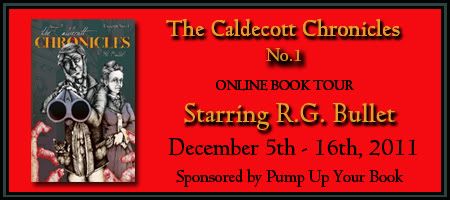 Excited for the holiday's?! Still looking for the perfect stocking stuffer for any zombie lover? Well, look no further, because R.G. Bullet's The Caldecott Chronicles, Issue #1 is the perfect gift for any zombie officianado out there. It's the perfect start to a wonderfully grotesque world of zombies featured in an English estate. The graphics are a great accompaniment to the horror story being told, which was very well developed and equal parts interesting and hilarious. It's quite the unique take on zombies in general, that I think any fan of horror fiction and zombies would enjoy.

Today, I'm lucky enough to have R.G. Bullet on the blog, featuring an interesting guest post, please help me make him feel welcome.
❝The Year Was 1996...❞

featuring R.G. Bullet
The Year was 1996...

About fifteen years ago I didn't have any tech around me - not even a cell phone. I used to go to the gym regularly, watch a bit of TV, read lots and lots of books and wrote stories longhand. Life was relatively uncluttered by tech. Little did I know that things were going to change dramatically, as I was just four months shy of going online for the first time.

Today, fifteen years later, I am trying to lift my head out of a tech swamp and it's a very real challenge. What happened to me? I think nothing of taking the iPad to bed. When I'm finished, I lay it on the bedside table next to my cellphone and my iPod. Two or three sets of earphones are always within reach, as is the charger - (heaven help me if the batteries run low). If I get up in the small hours I have no need to turn a light on, as the blinking apparatus acts like a mini runway. A PC, mac, monitors, speakers, wireless headphones and modem will guide me to the living room where the Tivo, answer machine and other computers will show the way to the kitchen.

But the real clutter is online. Every day, like millions of other people I wade through emails, texts, Facebook, Twitter, website updates, adding virtual friends, and I forfeit the real opportunity to talk to face-to-face to people, do any real socializing, write and exercise.

Is there a solution? I can only tell you what works for me and that's to wait for it to all break. And not re-buy it. That's how I got out of the highly addictive online gaming world I was in. Sometime ago I found something to help break the constant slump in front of the computer . It's called the 48/12 minute rule. Basically you set the timer for 48 minutes in order to focus (for me it's on writing), and then you take a break for twelve minutes. The original website I found is still up.
R.G. Bullet
Twitter | Facebook
Barnes&Noble | Amazon
Silver House Books

Although the word zombie is never used in the Caldecott Chronicles the undead, the ungodly, the beef squad, and stumblers certainly are. The bizarre and gruesome details are narrated in a journal by a very Aristocratic British gent. Get a first hand look on how the Victorian upper class deal with stumbling trespassers and see how one draws ones inspiration from a teenage girl born to kill.

*Summary taken from Goodreads.