❝YA AUTHOR'S APPRECIATION FEATURING❞

STEPHENIE MEYER

© TERI @ DREAMING DREAMS NO MORTAL EVER DARED
I am sure many people have chosen Stephanie Meyers for this event, but in all honesty she can be the only person I could possibly write about, as she literally changed the way I read. I hadn't read a YA novel, well since before I was in high school. I pretty much went from Nancy Drew to Agatha Christie to Steven King. My parents were not believers in book censorship, so I was aloud to read adult books growing up. They did however require lengthy discussions at the dinner table to make sure I understood what I was reading.

I spent 5 years of my life in a library cataloging books. I really didn't have a favorite genre at the time. It was hard to pin-point one with over 100 books a day landing on your desk. My reading was all over the place, but I never looked twice at a YA book, just did the work I needed to do on it and shoved it on my cart. My mentality was rather shallow, I wasn't going to read YA, it was for kids. I had graduated college...I was married...I had my own kids..why would I read YA?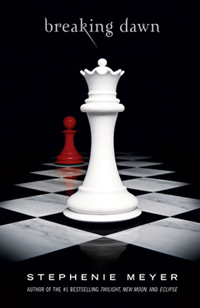 I did however begin to notice this one series of books (this was about a month before the book release of Breaking Dawn). They were EVERYWHERE. I bet I cataloged 6 to 7 of these books a day. I worked in a library system that had 15 libraries and none of the could keep these books in. They were either being stolen or wearing out from constant check out. There was one other girl that cataloged with me and we had out won little " Book club" so to speak. We would pick a book once a month, assign pages to read and then discuss it over lunch. She mentioned to me one day that in every pile of books she was cataloging , there was one of those Twilight books. We talked about picking it up and reading it but laughed it off...it was a child's book after all (forgive he snobbish behavior, it was just how I saw things at the time).

It was summer, I believe Breaking Dawn was released in July or August? Our delivery man was on vacation and crates of books needed to be delivered to the libraries. As with any job, you will do anything to get out of the office, so the two of us volunteered to spend the day delivering the books. The 3rd library we walked into with the crates had the READ poster with Robert Pattinson and Kristen Stewart hanging above the checkout desk. Of course we made a snarky comment about it and the librarian said.." Oh no girls you need to read these books, they are not childish at all."
Fast Forward 2 weeks before the release of Breaking Dawn. Two used copies of Twilight landed on my desk. I picked them up and walked into my friends office slamming one on her desk.." I cant take it any longer, we are going to read this book." She honestly looked up at me and pointed to her computer where she had an article pulled up about them making Twilight into a movie. The plan was as follows...go home, read 3 chapters that night and we would decide over lunch if we wanted to finish reading the book. The next day at lunch she asked me..." Did you get the 3 chapters read?" I nodded yes..." So did I, are we going to continue?"
I pushed the book across the table to her and answered..." No, I cant continue with this book..." She asked me if I didn't like what I had read, and I remember looking at her and smiling..." Well not exactly, you see, I did like it and I sorta read the entire book, it was like I couldn't stop..."

I knew I was in trouble for reading ahead. We had always promised never to do that so one of us wouldn't know more than the other when we discussed the books. She left the table, left the room and came back with a copy of New Moon and handed it to me..." Well we can start this one cause I finished Twilight too..."

And we did read it , followed by Eclipse and went to Walden books the day Breaking Dawn was released and bought it. We needed it...we had read the others so quickly, we even had to wait a few days for the release.
Rarely do I read an adult book now. I don't need to. YA gives me everything I need: Romance, Suspense, and problems people face everyday and they do it in a manner which I like. In so many adult books sex is written in where it just is not needed in the story (don't get me wrong, I have nothing against sex when it flows with the story. Trust me if ever I wanted sex it was with the Twilight series) I also blog, and through my blog I have met wonderful people, many who I claim as friends now, especially in the Twilight community. Will there ever be a fandom quite like the Twilight Fandom ever again? It is hard to imagine. Without Twilight, without Stephanie Meyer, I would still have my misconceived perceptions about YA books, and I shudder to think of all the great books I would have missed out on that I have read since then.
Oh yeah....remember that READ poster in the library? The one with Rob and Kristin holding the copy of Twilight? It now hangs proudly on my bedroom door reminding me where all of this started.
❝See The Trailer For Breaking Dawn❞