In April of 2011, I was contacted by Caroline Rose about participating in the Class of 2k12. At that particular time my blog was less than three month's old, however, I was thrilled with the opportunity nonetheless. So, I set to work compiling a list of questions that would be circulated between 20 different new upcoming debut author's for 2012 and 15 of them generously responded by picking between two or three of the questions and wrote their own little guest post to be posted here on my book blog, on the day their books release. The goal is to create as much buzz for these upcoming debut author's and their amazing books as bloggers can, by passing along the information and blogging about them.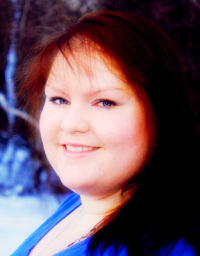 A.C. Gaughen's Website
|
A.C. Gaughen's Twitter
A.C. Gaughen's Facebook
|
Scarlet's Facebook
A.C. Gaughen's Goodreads
|
A.C. Gaughen's Youtube
Today, I am lucky enough to have the wonderful and amazingly talented A.C. Gaughen here at my blog featuring her new debut young adult novel, Scarlet, with us which is releasing today and if I were you I would definitely pick up a copy and check it out. Okay, so I have to tell you guys, that I am extremely excited for this book to be released, because I've been dying to read it. I love ALL THINGS Robin Hood related and the premise of this book and the herione that A.C. Gaughen promises looks like it's going to be an amazing, thrilling, action-packed undeniably compelling read. Please, help me welcome the lovely and incredibly gifted A.C. Gaughen to my blog.
❝The Watchword Featuring❞

A.C. Gaughen
What type of writing environment or space do you typically do most of your writing in?

I love to write at Panera. People think I'm a little crazy, but the perfect recipe always involves a ton of stuff going on around me with my music cranked loud and my head phones in. It's only when I have so much distraction around me that I can drown it all out and focus. And the refillable beverages don't hurt either!

Can you tell us a little bit about your upcoming book, without giving too much away?

Absolutely! SCARLET is a retelling of the Robin Hood legend, but with my own special twist. I was always fascinated with the character of Will Scarlet, this totally mysterious side kick of Robin Hood's that Robin seems to trust completely. I wondered what his secret could be...and then I thought, what if he was a girl? There's no way the history books would have let that fly--through the ballads and the passing of the story, no one would have let Scarlet stay a girl. Which I thought was actually a really interesting story--what if history forgot Will Scarlet was a girl named Scarlet? What would her story have been?

So I wrote that--and trust me, there are a few more things that history left out!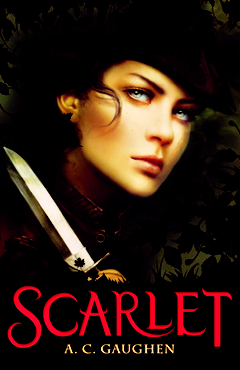 Scarlet
By A.C. Gaughen
Publisher: Walker Childrens
Publish Date: February 14, 2012
Format: Hardback, pp 304
Age Demographic: Young Adult
b&n // amazon

Many readers know the tale of Robin Hood, but they will be swept away by this new version full of action, secrets, and romance.

Posing as one of Robin Hood's thieves to avoid the wrath of the evil Thief Taker Lord Gisbourne, Scarlet has kept her identity secret from all of Nottinghamshire. Only the Hood and his band know the truth: the agile thief posing as a whip of a boy is actually a fearless young woman with a secret past. Helping the people of Nottingham outwit the corrupt Sheriff of Nottingham could cost Scarlet her life as Gisbourne closes in.

It's only her fierce loyalty to Robin—whose quick smiles and sharp temper have the rare power to unsettle her—that keeps Scarlet going and makes this fight worth dying for.

*Summary taken from Goodreads.
❝Watch The Trailer❞
❝To Purchase a Copy❞
Amazon
|
Barnes&Noble
BooksAMillion
|
Book Depository
Thank you, so much A.C. Gaughen for stopping by the blog and for sharing this wonderful guest post with the rest of us. I wish you a ton of success with Scarlet as it looks like it's definitely going to be a new and super interesting take on an old classic tale of Robin Hood and his band of merry men (and women too!), and I absolutely cannot wait to read it. To the rest of my fellow bloggers, I urge all of you to definitely pick up a copy of this book and read it and encourage other's to read it as well.