Losing Clementine
by Ashley Ream
ARC Provided by Publisher via TLC Book Tours
Published Date: March 6, 2012
Publisher: William Morrow Paperbacks
Book Format: Paperback; pp 320
Age Demographic: Adult Contemporary
amazon | b&n

In thirty days Clementine Pritchard will be finished with her last painting and her life.
World-renowned artist and sharp-tongued wit Clementine Pritchard has decided that she's done. After flushing away a medicine cabinet full of prescriptions, she gives herself thirty days to tie up loose ends—finish one last painting, make nice with her ex-husband, and find a home for her cat.

Clementine plans to spend the month she has left in a swirl of art-world parties, manic work sessions, and outrageous acts—but what she doesn't expect is to uncover secrets surrounding the tragedy that befell her mother and sister. In an ending no one sees coming, will we lose Clementine or will we find her?

Summary taken from TLC Book Tours.
❝My Thoughts❞
Losing Clementine is a highly emotional yet sometimes hilarious novel about a young artist trying to get her complicated life together and in order during the month leading up to her eventual suicide. It is a hard gritty look at the complexities of mental illness and depression, without a constant state of darkness clouding the better moments or judgments. The portrayal of mental illness and the messy complications of life are written in an interesting realistic way that allows readers to better understand Clementine and her decision. It is filled with the highs and lows of discovering secrets of the past, the search for oneself, and gut-wrenching emotional twists and turns. Ream has ultimately taken such a sensitive subject as suicide and has created a balance between relatable and funny.

Clementine is not your typical heroine, she's unusual in her own way with many facets of personality. Ream has taken care to write her as likable allowing readers to easily connect with her. She is incredibly strong in the face of the struggles she's had to deal with in life and completely unforgettable. In some instances, she comes across as endearing and sympathetic to readers as they follow her on her journey of self-discovery. Clementine is also deeply flawed and conflicted in such a realistic way, as well. She has this way of coming across as selfish and sometimes a bit rude, yet still possessing likable qualities that make her very human.

The supporting cast and the effect their presence had on Clementine's life is also very well developed and engaging. Chuckles may quite possibly be my favorite character in the book itself. That miserable cat had so much wonderful personality of its own shining through the pages, that it was hard not to love him just as much. Ream's amazing writing style and vibrantly descriptive imagery will leave readers feeling for Clementine as if, they too, are in the story. It is an emotionally compelling novel that is intensely sad and physically draining to varying degrees. But, in the end, as everything is being wrapped up there's a sense of faith or redemption in mankind that's restored. That is what makes this novel well worth the read.

Losing Clementine is the kind of book that will leave readers reflecting on life and simple compassion for others. It is kind, it is funny, it is overwhelmingly sad, and filled with hope, faith, and poignant insight. It is an incredible debut novel for what is sure to be a new brilliant author in adult contemporary.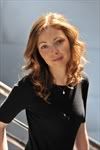 Ashley Ream got her first job at a newspaper when she was sixteen. After working in newsrooms across Missouri, Florida, and Texas, she gave up deadlines to pursue fiction. She lives in Los Angeles and works at a nonprofit.
Website | Twitter | Facebook

Other stops for the tour can be found here. Also Book Club Girl will be interviewing Ashley Ream on April 10th at 8 EST.

This book was received from HarperCollins via TLC Book Tours, in exchange for an honest review which I have provided. No money exchanged hands, I review books for fun because I love to read. I am not interested in monetary gain.