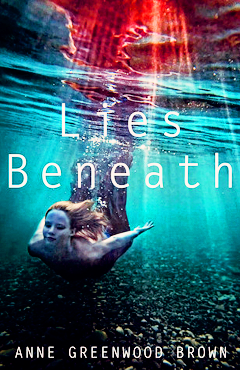 Lies Beneath
by Anne Greenwood Brown
Publisher: Delacorte Books for Young Readers
Expected Publication: June 12, 2012
Pages: 320
Age Demographic: Young Adult
Received via: Netgalley
amazon | b&n


Calder White lives in the cold, clear waters of Lake Superior, the only brother in a family of murderous mermaids. To survive, Calder and his sisters prey on humans, killing them to absorb their energy. But this summer the underwater clan targets Jason Hancock out of pure revenge.

They blame Hancock for their mother's death and have been waiting a long time for him to return to his family's homestead on the lake. Hancock has a fear of water, so to lure him in, Calder sets out to seduce Hancock's daughter, Lily. Easy enough—especially as Calder has lots of practice using his irresistable good looks and charm on ususpecting girls.

Only this time Calder screws everything up: he falls for Lily—just as Lily starts to suspect that there's more to the monsters-in-the-lake legends than she ever imagined. And just as his sisters are losing patience with him.

* Summary taken from Goodreads.
❝My Thoughts❞
Lies Beneath is a dark thrilling world filled with, dangerous mystery, undulating romance, and creative deceptive inhuman creatures. Anne Greenwood Brown's world of mermaids is extremely dark, rich, and complex. She does not shy away from showing just how cruel, callous, murderous, and full of spiteful venom they are. They are fueled by revenge and will stop at virtually nothing to get it, come hell or vapid high water. It is simply a dark and delicious world full of tension and terror.

Anne Greenwood Brown's writing is exquisitely beautiful and marvelously vivid in the most terrifying sense. The imagery is remarkably breath-taking as readers delve deeper into her descriptions of the under-water-world these mermaids inhabit and are bound to, Lake Superior, and the town of Bayfield. What's even more refreshing is to see this story told from a male's view point. Lies Beneath is amazingly suspenseful, cleverly written, and emotionally engaging.

Her world is dark and mystifying, creating such a treacherous twist on mermaids. This isn't your normal story of mermaids; it doesn't pain the picture of happily-ever-after. These creatures are hollow and filled with envy; they crave human joy and happiness. They harbor a great amount of resentment towards their prey (humans) and have no qualms about sucking the life-force out of them. Once they've drained their aura, they discard them without so much as a flick of the eye, leaving them behind cold and devoid of any signs of life. They are bound in more ways than one, bound physically to the water and bound magically to their family and territory they claim.

It seems that for every choice made, there is a consequence that must be faced. So, which will it be for Calder? Will he end up choosing his heart or his vengeance? His love or his loyalty to his family?

Calder is this wonderful dark and deceptively mesmerizing merman, who exacts an interesting cleverly written plan of revenge on the man who caused his mother's death. One thing he didn't account for was that he would start to develop a connection to Lily, the daughter of the man culpable of his mother's demise. Once the connection is there, he simply cannot imagine causing her as much pain as he's endured, by killing her father. So, he spends a great deal of the story conflicted and growing closer to Lily.

Lily, on the other hand, is a wonderfully strong and unique character. She's got an incredible spark of sarcasm and just the right amount of grit. There so many wonderful admirable qualities that make her stand out, like the fact that she has strong opinions and tends to do what she wants to regardless of what other's might think. She's definitely not afraid to speak her mind or make her feelings known. She and Calder definitely make quite an interesting pair, as they slowly start building a relationship of trust. Their chemistry is indescribable, in a pretty amazing way. It has a different feel to it that is sure to keep readers intrigued and rooting for them.

The ending will not only keep readers on the edge of their seats, but will keep them craving more. They'll be guessing right up until the end - one they won't see coming. There's so many amazingly written wonderful tension filled twists and turns, that this novel will definitely not disappoint any fan of mystery and intrigue. Anne Greenwood Brown has created an intensely fascinating world filled with intriguing mythos and wonderfully developed character's that is sure to leave readers stunned and mystified.

{ This ARC was provided by via the publisher through Netgalley, in exchange for an honest review which I have provided. No money exchanged hands, I review books for fun because I love to read. I am not interested in monetary gain. Any piece of this ARC that was/wasn't quoted, is not part of the finished product and should not be perceived as such.}