Breaking Beautiful
by Jennifer Shaw Wolf
Publisher: Walker Childrens
Publication Date: April 24, 2012
Pages: 368
Age Demographic: Young Adult
amazon | b&n


Allie lost everything the night her boyfriend, Trip, died in a horrible car accident—including her memory of the event. As their small town mourns his death, Allie is afraid to remember because doing so means delving into what she's kept hidden for so long: the horrible reality of their abusive relationship.

When the police reopen the investigation, it casts suspicion on Allie and her best friend, Blake, especially as their budding romance raises eyebrows around town. Allie knows she must tell the truth. Can she reach deep enough to remember that night so she can finally break free? Debut writer Jennifer Shaw Wolf takes readers on an emotional ride through the murky waters of love, shame, and, ultimately, forgiveness.

* Summary taken from Goodreads.
❝My Thoughts❞
Breaking Beautiful is an emotional rollercoaster ride full of heartache, love, forgiveness, and hope. Jennifer Shaw Wolf pens a beautifully gut-wrenching story of shame, startling realities, and romance so powerful that readers will not know what hit them. It's brimming with mystery and intrigue, intermingled with despair and pain so raw that the emotion leaps off the pages. There is a journey that the reader takes along with Allie, the main character, as she sets to recover the memories of the horrible night Trip died and what actually did happen. It's touching and moving, fiercely compelling, and startling in many ways and will not soon be forgotten.

It was truly heartbreaking to see just how much Trip had worn down Allie, how shameful she felt, how afraid she was to speak of the abuse that she suffered at his hands. What made it even worse, is that two of Trip's friends knew and had seen his abuse towards Allie, and just turned their heads and looked the other way. Even though Allie was a wonderfully compelling and likable character that readers could sympathize with, the approach that Jennifer Shaw Wolf took in writing her as this shadow of a person that wasn't exactly whole in a lot of ways was completely new and interesting. It was handled as if reader's were discovering the mystery of what happened that night along with Allie, as she started to vaguely recall the memories of past abuse and that particular fateful night. It was nice to see the rocky road to Allie's recovery, self-insight, and hope unfold between the pages.

Breaking Beautiful is full of interesting characters unique in their own personalities and motives, it's rich in detail, and incredibly realistic which gives it even more of a powerfully emotional punch. The sensitive subject matter of abuse is handled well and is woderfully developed, the slow progression of a blossoming romance between Allie and Blake shines through beautifully, and the underlying message of hope illuminates magniciently. It is a complex beautiful mess, but one that I would definitely recommend to anyone who enjoys young adult contemporary mystery. It's just so flawless and beautiful, that at times the writing made me want to cry.

Want to purchase a copy of Breaking Beautiful by Jennifer Shaw Wolf?
You can do so by visiting my Amazon Store and adding them to your shopping cart. While you're there, feel free to look around, you might find something else you want. I hope you enjoyed reading my review of Shattered Dreams. I definitely suggest you pick up a copy for yourself or even for someone else, if you think they'll like it.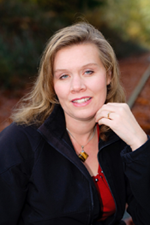 ABOUT JENNIFER SHAW WOLF

Website || Blog || Facebook || Goodreads

Jennifer Shaw Wolf grew up on a farm in the tiny town of St. Anthony, Idaho. She spent cold Idaho mornings milking cows in the dark and attended a school where Hunter's Education was part of the sixth grade curriculum. She's always been a writer, whether it was sewing together books to read to her little brothers or starting an underground newspaper in sixth grade. She met the love of her life at Ricks College, (now BYU Idaho), after he dropped her on her head. She graduated from Ricks and then Brigham Young University, Provo with a degree in Broadcast Communications. Now she lives in beautiful, green, (rainy) Lacey, Washington with her husband and four kids. She loves to produce videos, ski, ride horses, and read, but really all she has time for is chasing kids and writing.
Author information taken from her Goodreads
.
{ This ARC was provided by ATW ARC Tours, in exchange for an honest review which I have provided. No money exchanged hands, I review books for fun because I love to read. I am not interested in monetary gain. Any piece of this ARC that was/wasn't quoted, is not part of the finished product and should not be perceived as such.}