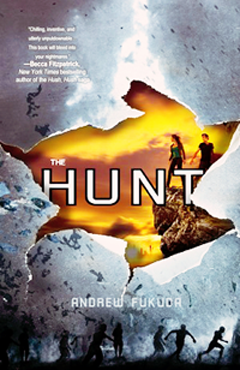 The Hunt
by Andrew Fukuda
Publisher: St. Martin's Griffin
Expected Publication: May 8, 2012
Pages: 304
Age Demographic: Young Adult
amazon | b&n

Don't Sweat. Don't Laugh. Don't draw attention to yourself. And most of all, whatever you do, do not fall in love with one of them.

Gene is different from everyone else around him. He can't run with lightning speed, sunlight doesn't hurt him and he doesn't have an unquenchable lust for blood. Gene is a human, and he knows the rules. Keep the truth a secret. It's the only way to stay alive in a world of night—a world where humans are considered a delicacy and hunted for their blood.

When he's chosen for a once in a lifetime opportunity to hunt the last remaining humans, Gene's carefully constructed life begins to crumble around him. He's thrust into the path of a girl who makes him feel things he never thought possible—and into a ruthless pack of hunters whose suspicions about his true nature are growing. Now that Gene has finally found something worth fighting for, his need to survive is stronger than ever—but is it worth the cost of his humanity?

* Summary taken from Goodreads.
❝My Thoughts❞
The Hunt is one of the most gritty, riveting, keep you on the edge of your seat books released this year. It's dangerously addicting and incredibly hard to put down until the last page has been read. It's quite a puzzle to be pieced together as it progresses, but it is bold, daring, and full of dangerous intrigue. The characters are just as confusing as the brilliantly crafted world they are living in, but as the two go hand in hand they are pretty spectacular to read about. Andrew Fukuda has penned such an extraoridinary chill-inducing tale of deception, lies, betrayal, love, and dangerous emotions mixed in with some extremely amazing kickass action sequences. This is such an irresistable book for any dystopian lover.



It seems as if the world Andrew Fukuda has depicted, has been spun upside down and left in suspension, where down is up and up is different. There is one human working to infiltrate the vampire world. He may or may not make it out alive, if he is found out. This is where you don't breathe, you don't sweat, you don't cough or sneeze, or do anything that would attract attention to you. Gene's family has been wiped out completely by the vampires and he has been on his own for quite some time using everything his father taught him for survival means necessary, before he became infected and died. Soon everything changes and the world takes on a darker more sinsister edge to it sharper than before, when he's ordered to hunt the last of the humans for sport.



The Hunt's pages are filled with wonderful irony and mystery. Vampires equal evolved beings, while helpers (humans) are the animals. It's sort of monster with weird quirks and facets versus helpers who translate as animals -more lowly creatures. The paranormal aspect of this novel was written exceptionally well and wonderfully developed throughout. The vampires within the story seemed to have unique oringinality of their own, possessing strange quirks and personality as disgusting as the drooling, nasty, and repulsing creatures they represent. Another thing that was interesting about them, is that they are functioning civil evolved beings, who go to work, go to school, and function just as well as any human would despite their weird quirks.



There are some dangerously frightening moments and chill inducing tension in the atmosphere that leave emotions running sky high. Wonderfully original and uncoventionally creative and clever, The Hunt is a disturbingly dark and deceptively twisted portrayal of the post-apocalytic world ran by vampires and one lone human left on his own to fight for his own kind. Fans of much darker and terrifying dystopian novels such as Partials and The Hunger Games will be absolutely blown away by the sheer force of this novel and the incredible cliffhanger that will have them anticipating the sequel.
Want to purchase a copy of The Hunt by Andrew Fukuda?
You can do so by visiting my Amazon Store and adding them to your shopping cart. While you're there, feel free to look around, you might find something else you want. I hope you enjoyed my review for The Hunt by Andrew FukudaI definitely suggest you pick up a copy for yourself or even for someone else, if you think they'll like it.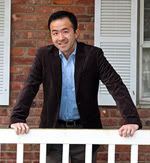 ABOUT ANDREW FUKUDA


Website || Twitter || Facebook || Goodreads


Born in Manhattan and raised in Hong Kong, Andrew Fukuda is half-Chinese, half-Japanese. After earning a bachelor's degree in history from Cornell University, Fukuda worked in Manhattan's Chinatown with the immigrant teen community. That experience led to the writing of Crossing, his debut novel that was selected by ALA Booklist as an Editor's Choice, Top Ten First Novel, and Top Ten Crime Novel in 2010. His second novel, The Hunt, the first in a new series, was bought at auction by St. Martin's Press and will be published in May 2012. Before becoming a full time writer, Fukuda was a criminal prosecutor for seven years. He currently resides on Long Island, New York, with his family.


Author information taken from her .
{ This ARC was provided by ATW ARC Tours, in exchange for an honest review which I have provided. No money exchanged hands, I review books for fun because I love to read. I am not interested in monetary gain. Any piece of this ARC that was or wasn't quoted, is not part of the finished product and should not be perceived as such. Instead, you should compare and check it against a finished copy once it is released.}