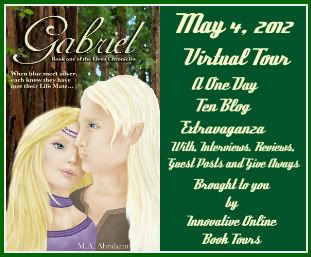 Today, I have the incredibly talented M.A. Abraham talking with me about her novel, Gabriel. It's a wonderful fantasy novel, filled with enchanting Elves, beautiful worlds, and exciting daring adventure. This book is definitely a must read, for anyone who enjoys fantasy and interesting characters. It's brimming with fantastic adventures and heroism that shines on the pages.
Question and Answer with M.A. Abraham
Hi, Mary Ann. It's nice to have you visiting with us on the blog today. Your book, Gabriel, is filled with such rich fantasy and detail that it's mesmorizing and echanting. Could you tell us a little bit about the mythos or inspiration behind it, please?

Hi, it is great being here, and thank you for having me. Also, thank you for the kind words about my book. Gabriel is a book that came to mind about 2 weeks after my mother died. I have no idea where it came from. I just sat down one day and wrote the outline for it, though the outline didn't last long. Only a few chapters into the book I realized that the characters were leading me in a different direction. I just followed along like a good puppy.

Gabriel is such a loyal and duty bound hero and warrior, to get to know thorughout the novel. I really enjoyed getting to know him throughout the book, but it seemed almost as if he and Eden share a few differences. Do you think these differences in their strengths and weaknesses as far as their relationship goes, made them strong and better people?

Gabriel has been forced into who and what he has become because of the war, and the more you read about him the more you realize that. He is sure of himself, of his capabilities, but he gets a little blindsided when he meets Eden. He doesn't know what to think at first. Marious has to point out the obvious to him. Eden is a character that will challenge him, bring him back to life in many ways. She is a strong person with a demanding talent that tends to take over her life at times. Gabriel is her anchor as she is his light. Theirs is not only a clash of personalities, but direction, but neither can control the inevitability of their love. It shows that fate is stronger than either has the will or desire to fight. Together they complete each other, they become much stronger when they unite.

One of my favorite things about fantasy novels or any books in particular, are the characters and whether or not, I can relate to them or easily connect. Eden was such a breath of fresh air. I adored how she was wild and carefree, a warrior like her brothers and was determined to not let herself be any man's possession. Can you share with my followers, a little more insight to her character?

Eden is a demanding character in some ways, yet she is a loving and giving Elf. It is not always easy to see, I have had people accuse her of being immature and selfish, of being too caught up in the forest about her. They don't see how she feels one with the forest almost as if she is a part of it. She tends to be compulsive about her talent as it is new to her. She has been moved from one form of life to another and needs to get used to so much. Finding a Life Mate in the form of Gabriel is equally overwhelming, he is also a very strong and powerful character. She is very close to her family, loving each one in her own way for who they are, as well as accepting towards those she meets. A good example of that is when she meets her grandfather for the first time, but you would have to read the book to know about that.

The world builiding was simply phenomenal and awe inspiring. It was one of the best things about the book, with all of the lush descriptions and the mythos interwoven I found myself getting truly lost in this enchanting world full of so much potential. I think this was of the few fantasies that I've read in a while, which involved elves and I simply loved that aspect of it. Were you always creatively inspired by eleves or were just looking to write something different than the norm?

The Elves were an inspiration. I love fantasy in all its forms and have noticed how they tend to be pushed into the background or treated as evil. In different societies in the world Elves are beautiful, magical beings. They are not evil or cruel, though like any other creature they can probably be in the right circumstances. In Gabriel the world is just coming to light, I have set the platform for the next stage as well as shown the direction. They have built their world and will continue to do so in the next story. They are evolving and as they come out of the darkness that was the war they were caught up in and back into the light of their peaceful world, they are finding hope for the future in the love of one another. They are learning to live again as Elves.

What three things did you enjoy, while writing Gabriel?

I rather loved the chase, the game of cat and mouse between Eden and Gabriel. I really enjoyed Marious' relationship with his uncle. I loved it that the world was coming together for the Empire, and that it was going to become so much more than it was. There was a future for them that could be pure and beautiful.

What three things did you not enjoy while writing Gabriel?

The editing was brutal, I didn't really write the book with the idea of ever releasing it to the public, so I didn't take care with the wording. (Not good). I was not happy with Eden's brother and his actions, (again you would have to read the book to know about that), but not to worry, he will get his. I also felt I could have done better, but they say that is a common thing.

If you had to describe Gabriel in three words, what would those three words be?

Gabriel is determined, crafty, and very sure of himself. He is a very complex Elf. When he commits to a relationship it will be with all his heart and soul. As far as he is concerned, Eden is his.

Moving away from Gabriel for a moment, what are your top three favorite fantasy books and their author's and why?

I love Mary Stewarts Merlin Trilogy. It shows the legend in a different light completely. I thought that was cool. Anne McCaffrey's The Rowen, the whole series is great reading. Saving the best for last, CL Wilson's Tairen Soul series… that is a true writing marvel as far as I am concerned. It is not only a magical story, but it is so well written and put together it is amazing.

Were you inspired by all or one of these in particular, while writing Gabriel?

I can't say I really was. Neither of the first two fall into this form of book and before I ever read the Lord of the Fading Lands I had already written Gabriel and had it stashed in my closet.

How does it feel to know that people are reading Gabriel and enjoying it?

I am sometimes astounded that it has been so well received. I have heard virtually nothing negative about it. I have to admit I was very nervous about allowing it out of hiding. I am excited that people are telling me that they are finding happiness in the reading. It is a wonderful thing to find fulfillment in a book.

As an author, do you think that there could be any room for improvements in your writing or in the direction of where the next installment of this series may lead you?

There is always room for improvement that is why I am not quite satisfied with the end result of anything I do. Nothing is perfect. My editor says there are times I need a smack on the back of the head.

If you had any advice to offer to aspiring fantasy would-be author's, what would it be?

I don't consider myself much of an expert on that front, but don't doubt yourself, and make sure you have a good editor. Above all, have faith in what you do and believe in.

Thank you, so much for joining me on the blog and sharing your amazing novel with us. I really enjoyed it reading it a great deal, it was such a fantastic and enchanting read. I cannot wait for the sequel.

Thank you for allowing me to come, and I am so very happy you liked the book. You also know Marious' Story isn't that far off either. We are not too far from finishing the Editing. Further releases on the series will be available on my website http://maabraham.com and my FB page. Feel free to drop in anytime.
"Want to know more about M.A. Abram's fantasy filled novel, Gabriel?"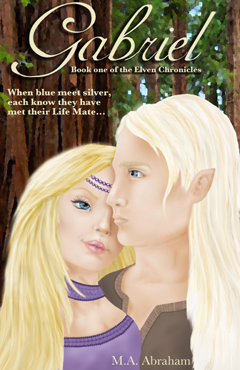 He has returned from the wars a hero to his people, savior of their Empire and honored as such, but his world is empty, despite the peace he has won for his people. There is no light where he lives, no soft touch to comfort him, to push away the darkness of his memories. He lives only to serve his King and the world he lives in. He is the High Lord General Gabriel Eagle Claw, Commander of the Combined Elven forces Sent into the outside world to bring their people home he travels with his troop to the valley where he has been told they await his coming. There he is to find the Life Mate to the King and bring her safely to his side, but there is more, for there is a mystery he must solve and claim for his own. She who will bring light and love to his soul, she is his Eden. His one and only, his true Life Mate, his love and he vows he will bind her to him forever.

She is like a forest creature, wild and free. Warrior trained along side her brothers. She guards the life and spirit of the forests that surround them, as well as those who live in the valley with them. She also guards a secret, for she is more than just a simple Elven maiden tending to the care of the elements they live in. Within her lives the talent to communicate with the very trees she treats, they tell her tales, stories, tidings of things that have passed. To them she is their guardian. To them she is Tratchar, she who heals their ills, beloved of the Sentinels and their salvation. Beautiful and proud she is no man's possession, nor shall she be, this she is determined she will never be.
"Want to purchase a copy of Gabriel by M.A. Abraham?"

Check out the other stops on the tour, for more fun and interesting things like giveaways, more interviews, reviews of the book, etc.