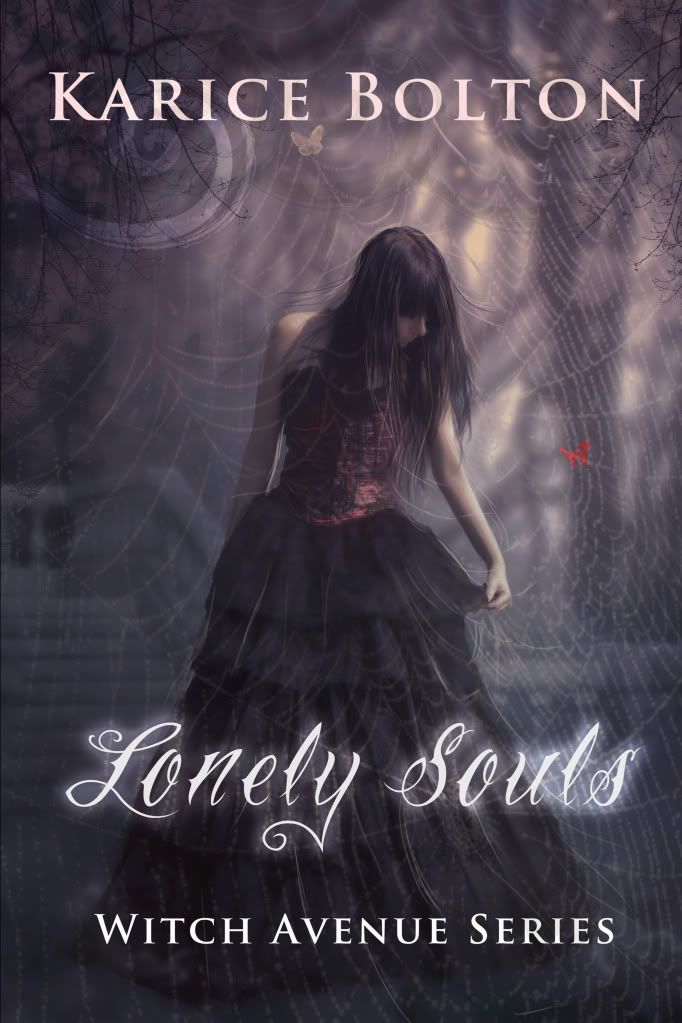 Lonely Souls
by Karice Bolton
Publisher: CreateSpace
Expected Publication: June 25, 2012
Received via Author: Karice Bolton
amazon | b&n

It's two weeks before Triss turns 18, and her world is about to change into the most magical one imaginable as she readies herself to enter The Witch Avenue Order... that is until her mother's disappearance. Instead of celebrating her transformation, she finds herself spreading rose petals into her mother's empty grave.

When Logan, her best friend from junior high, moves back to town for college, he vows to help her find the answers she so desperately seeks surrounding her mother's disappearance. As they begin uncovering clues, it becomes apparent that the life of white magic they both grew up loving is not what the majority practices, and their lives are in danger.

With a haunting feeling that her mother may still be alive, she begins to hear a call to the wilderness. Triss realizes that in order to find the answers she needs, she must learn the ways of her ancestors and become the hunter, not the hunted before it's too late, and she becomes part of the lonely souls.

*Summary taken from Goodreads.
❝My Thoughts❞
Karice Bolton pens a striking mysterious tale of magic and haunting mystery. The pages are filled with stunning imagery that will elude readers and keep them entranced in the dark magical tale it weaves. Characters burst to life with incredible spark and personality that make them extremely likable. Heightened suspense is sure to quicken any reader's pulse as they flip the pages, gaining more insight into the world of white magic tempered against dark, the illustriously intriguing energy and buzz of history surrounding The Witch Avenue Order, and the secrets and lies that lay hidden just beneath the surface. It's a virtual white garden bursting to life with tinges of smoke and ash hiding the black tarnish just beneath.

With every twist and turn that Karice Bolton throws out, there is chilling excitement and suspense waiting for readers to stumble upon as they follow along with Triss who tries to uncover the mystery of her mother's death and discovers the darkness she never realized was there. The romance between her and Logan is as sweet as a fragrant rose blossoming to life in a garden of splendor and magical wonder. The world building is absolutely gorgeous and beguiling enough to ensnare readers in its web, leaving them stunned and captivated at every turn. The adventure and action has such a gravitational force, that it's hard not to feel as if you're right inside the story, which is one of the best things about the novel. There is such an organic richness to this novel, that it just stays with you.

Lonely Souls is one of the most richly intriguing and darkly alluring novels that I've personally read in the last six months. I would recommend this book to anyone who enjoys paranormal and urban fantasy, with a twist of wonderful coven history.

Awesome Lonely Souls Giveaway!
a Rafflecopter giveaway
Want to purchase Lonely Souls by Karice Bolton?
You can do so by visiting my Amazon Store and adding them to your shopping cart. While you're there, feel free to look around, you might find something else you want. I hope you enjoyed the review for Lonely Souls. If you haven't read it yet, then I definitely suggest you pick up a copy for yourself or even for someone else, if you think they'll like it.
ABOUT KARICE BOLTON
Website || Twitter || Facebook
Karice Bolton is a paranormal romance/urban fantasy author living in the Pacific Northwest. All three books in The Watchers Trilogy are available now, Awakening, Legions, and Cataclysm. Lonely Souls, which is the first book in her new series Witch Avenue, released June 2012.

Karice married the love of her life who she met in high school, and she still can't get over how cute and funny he is. They have two English Bulldogs that are the cutest bullies in the world, and they use their cuteness to get what they want. Karice loves the snow and gravitates towards the stuff as often as possible! She enjoys skiing and tries really hard to snowboard, but often makes a nice little area to sit while everyone zips by on their board. She enjoys writing, and she also loves to read just about anything with print.

Author information taken from her Goodreads.
{Small Note: This book was received from Karice Bolton, in exchange for an honest review which I have provided in a timely manner. No money exchanged hands. I review books for fun because I love to read. I am not interested in monetary gain.}