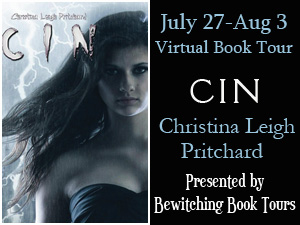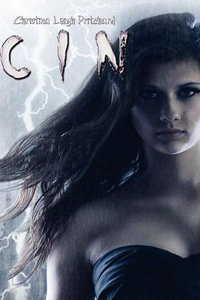 CIN by Christina Leigh Pritchard
Published
: April 13, 2012
Publisher
: CreateSpace
Age Demographic
: Young Adult
Pages
: 252
Seventeen year old Lisa Brown's life is falling apart. First, her mother and father divorce, then their house forecloses and now, her mother has decided to commit herself to a psychiatric hospital.

If that weren't enough, she must leave sunny south Florida to attend a boarding school full of geniuses in cold, Lynn, Massachusetts. The city where the locals chant "Lynn, Lynn, city of sin; you never come out the way you went in."

And, they aren't kidding. Lisa must live in a tiny shack with two strange teenagers, a dog named Pig who growls when you look at him and a cat named Rat. "Mind the cat," everyone says. What the heck is wrong with this place?

Lisa thinks she's landed in her own house of horrors with the anti-social Alex and his facetious sister Ally. But, the real drama begins the day she is struck by lightning…
Guest Post:

5 Reasons I Loved Writing C I N,

5 Reasons I hated it…

by: Christina Leigh Pritchard
Writing C I N was awesome!

The only trouble with C I N, was when I began the novel I didn't know what was going to happen in the end. As I wrote, I cried and laughed at each turn. Sometimes I really loved a scene, other days I wanted to burn the whole manuscript.

My favorite moments writing C I N would have to be (1) when Ally and Donna are stuck together in the same dorm room. It was fun to let Ally take some heat for a change, giving Lisa a break. (2) Michael and Lisa were like pen and paper, totally different but meant for each other. Their chemistry kept me up for hours after I wrote a scene with them. The words flowed for me whenever the two of them were together.

(3) Alex and the breakfast scene made me laugh hysterically. If you only knew what I wanted to add to that scene! Sometimes, in the story, (4) Lisa would mention her father, Jimmy. He seemed like such a great guy. (I know I wrote him but I didn't get to know him any faster than I could type). And, (5) the best part about C I N? My mother listened to me read it from beginning to end! This is the first story she's ever enjoyed cover to cover. My heart soared with each chapter she anxiously waited for.

There were some rough times, like (1) when Lisa's mom revealed why she suffered mental breakdowns. I cried and wondered what sort of person would ever dream of doing the things that were done to Amber. The next troubling moment for me was when I did the (2) flashbacks of Donna and Michael, their characters no longer comic relief but well rounded individuals who sometimes, were downright evil.

(3) My normal style of writing is fast and full of action. C I N is my first novel where suspense slowly builds. Writing these scenes in this way drove me nuts! I would get up, pace, blast my mp3 player, go to the gym, come back home and stare at my computer screen. Then REPEAT.

Allowing myself to (4) write romantic scenes was probably the hardest. Usually, my books don't have them. I struggled with this. Sometimes going overboard, other times, not enough passion was added. It was a new experience that I'm happy is over! I've never done so many rewrites in my life!

The absolute worst part? When C I N (5) ended. I could've continued on for thousands of pages. I love the characters so much, especially now that I know their backgrounds. I feel as if they're real and I so want to be a part of their lives for as long as I can!

Except of course for Frank, I hate that guy…
Want to purchase

CIN by Christina Leigh Pritchard?

a Rafflecopter giveaway
You can do so by visiting my Amazon Store and adding them to your shopping cart. While you're there, feel free to look around, you might find something else you want. I hope you enjoyed the guest post from CIN by Christina Liegh Pritchard. If you haven't read it yet, then I definitely suggest you pick up a copy for yourself or even for someone else if you think they'll like it.
ABOUT CHRISTINA LEIGH PRITCHARD
Blog || CIN Series || Facebook || Twitter
Christina Leigh Pritchard
was born and raised in South Florida. Her first stories were written at the age of nine in $0.15 wide ruled, spiral notebooks (which were supposed to be used for class), and in the various diaries she kept. Stories she wrote from age nine to twelve fill about four storage boxes!
Since she's upgraded to a computer, she's completed over fifty books and still going strong. Her genre's include dark fantasy, young adult, drama, suspense, historical romance, multicultural, comedy, poetry and many more.
Take a look at the trailer.
You can find details on the casting calls and a huge epic giveaway all on Christina Leigh Pritchard's website.

CASTING CALL! Please join the raffle to be one of four new characters in upcoming C I N books! Submission Form Here!

CASH PRIZE PHOTO CONTESTS AVAILABLE TO EVERYONE! Submission Form Here!

The giveaways will include these amazingly extraordinary items listed below...
Ally's Giveaway

A Dufonte Lucien Piccard gold tone bracelet and watch set MSRP $195.00

Ally may be a bit facetious but she's far from stingy, even with those she terrorizes…
Michael's Giveaway

A ZYLOS George Machado Men's watch MSRP $95.00

Michael's not interested in keeping time anymore. He's got too much of it to care…
eBook Giveaways

Winner 1

The C I N Series eBook Set

Book One: C I N

3 Short stories:

Donna Denning

Jimmy and Amber

Pete and Marie

Book Two: Traitor

Winner 2

The 3 CIN Shorts eBooks
Giveaway banner designed by the ever amazing Rachel @ Parajunkee.Com