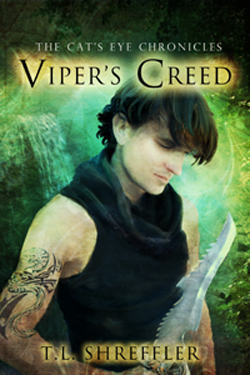 Viper's Creed (The Cat's Eye Chronicles, Book 2)
by T. L. Shreffler

Release Date: October 31st, 2012
They had grown close, somehow. "Close" seemed almost too much. Perhaps familiar? Was there another word for it? Crash was not the kind of man who inspired warmth, and yet...she missed him strangely, in rare moments of the day, when she was knee deep in housework or out riding through the forest. She yearned to see him again, though she wasn't sure why. Chapter 1, Viper's Creed
Sora is having visions. Strange, terrifying visions brought on by her Cat's Eye necklace, an ancient and magical device. Spurred to action, she leaves her mother's cabin to find Crash, the mysterious assassin who once changed her life. She is certain that together, they can discover what the necklace is trying to tell her.

Crash is still on the run from the dark sorcerer, Volcrian, but now a plague is spreading across the land. Volcrian's quest for vengeance has awakened something far more evil than himself; a force that could destroy the entire kingdom. Together, he and Sora must harness the power of the Cat's Eye and kill the sorcerer before it's too late....
To Purchase T.L. Shreffler's Books
Amazon || B&N || Book Depository || Goodreads
ABOUT T.L. SHREFFLER
T. L. Shreffler lives in Los Angeles, CA. She loves diversity, fantasy, romance, iced tea, long walks, philosophy, and thrift store shopping. She recently graduated with a BA in Badass (Creative Writing) and her poetry has been published consecutively in Eclipse: A Literary Journal and The Northridge Review.
Blog || Twitter || Facebook || Goodreads