Crave (The Clann #1)
by Melissa Darnell
Published
: March 25, 2012
Publisher
: Harlequin Teen
Age Demographic
: YA Paranormal
Pages
: 432
Savannah Colbert has never known why she's so hated by the kids of the Clann. Nor can she deny her instinct to get close to Clann golden boy Tristan Coleman. Especially when she recovers from a strange illness and the attraction becomes nearly irresistible. It's as if he's a magnet, pulling her gaze, her thoughts, even her dreams. Her family has warned her to have nothing to do with him, or any members of the Clann. But when Tristan is suddenly everywhere she goes, Savannah fears she's destined to fail.
For years, Tristan has been forbidden to even speak to Savannah Colbert. Then Savannah disappears from school for a week and comes back…different, and suddenly he can't stay away. Boys seem intoxicated just from looking at her. His own family becomes stricter than ever. And Tristan has to fight his own urge to protect her, to be near her no matter the consequences.
To Purchase the Crave (The Clann #1): Amazon
Crave (The Clann #2)
by Melissa Darnell
Published
: March 25, 2012
Publisher
: Harlequin Teen
Age Demographic
: YA Paranormal
Pages
: 496
Dangerous to be together. Painful to be apart. Savannah Colbert knows she broke up with Tristan Coleman for the right reasons. Most of all, to keep from killing him with her new vampire abilities. But try telling her heart. Now, lost in a sea of hostile Clann faces, Sav tries to come to terms with what she's becoming and what that means for her future. And that someone is doing their best to bully her into making a terrible mistake.

Tristan can't believe Sav won't even talk to him. If being apart is her decision, fine. Just don't expect him to honor it. But even as he prepares to fight for the girl he loves, forces beyond their control take them both in directions neither could have foreseen or prepared for.

A reckoning is coming and not everyone will survive.
To Purchase the Covet (The Clann #2): Amazon

I am totally thrilled to be sharing with you today, an incredibly amazing young adult paranormal romance saga, written by the wonderfully talented

Melissa Darnell

. It's definitely a series that will get your blood pumping, your heart racing, and take you on an incredibly dark and tantalizing roller coaster ride. I am so super excited and totally beyond thrilled to get to be part of this book tour via

Kismet Book Tours

and share this wonderfully written and entertaining, sexy, and paranormal romance fantasy world with you, filled with forbidden romance and tantalizing secrets dripping with desire and dangerous twists and turns hidden around every corner.



Aiecha of Word Spelunking

first turned me onto this series last Christmas, when she surprised me by gifting me with an e-copy of

Crave

to christen my new Kindle Fire with. Ever since then, I have been

craving

more and more of this truly fantastic and amazing series. So, when I was offered the chance to be a part of the

Covet

tour through

Kistmet Book Tours

I absolutely

LEAPED

at the chance for sure. Let me tell you,

Melissa Darnell

simply

DID NOT

disappoint with the next installment of this deliciously dark and romantic series. If you have not read this series yet or if you're looking for a paranormal romance that will quench your thirst and spark to life off the pages with insatiable romance - then

THIS IS THE SERIES

for you!!!

For those of you who need a little more incentive or are craving to hear more from the author herself, I have an

AWESOME

giveaway that

Harlequinn Teen

is sponsoring in conjunction with

Kismet Book Tours

AND an interiview that

Melissa Darnell

was so generous enough to take part in to wet your appetite with.

Trust me, it is dripping with romance and a world carefully crafted and wonderfully imagined that will not disappoint. So, stay tuned and turn up the volumed! We're about to get...HOT LIKE FIRE!!!

Covet

is a dark, alluring, and intriguing young adult novel brought to life by the wonderful

Melissa Darnell

. Filled with brilliant captivating detail and stunning imagery that reaches out from the pages and engages readers, it's full of many dark and dangerous twists and turns around every corner. It's so incredibly easy to get caught up in the story being told. Picking up where the first book left off on, it will definitely keep readers in suspsense and wow them with a tantalizing taste of forbidden love, danger, and powerful mystery. There characters are stronger and richly developed, the plot is engrossing and captivating, and the allure from the darkness fills the pages with so much to offer in the way of love, friendship, enemies, and epic battles of good versus the truly evil.

It's absolutely thrilling and unpredictable in so many wonderful ways. The forbidden romance and the further exploration of the Clann, was one of the highest points of the novel. There's a sort of quiet subtley in the adventure and excitement that takes place in this novel, but all of the main characters are there and the new ones only add to the story making it more appealing and interesting.

Darnell

has managed to hit it out of the park with this next installment to the series. Fans of young adult paranormal romance will definitely enjoy this scorchingly amazing book.
Hi Melissa, it's wonderful to have you on the blog today, thanks for stopping by.



Thanks for having me here!



01. Covet is the second book in your YA paranormal series, is there anything that you've learned or secrets to success that you've picked up in the writing industry?



It doesn't matter how long I've been writing, I am constantly learning something new and useful, whether it's from books about writing, articles on the subject, or conference recordings (conferences are usually too far away for me to attend in person, but you can find some really great conference recordings available online for fairly cheap!). The most recent new tips I've picked up are...

1. The better your outline, the better your rough draft. Outlines in and of themselves aren't new to me. I can't write a story if I don't know where it's going ahead of time (and I'm just as anal about preplanning out family trips!). I give myself permission to write fairly crappy first drafts and then focus on the revisions to really help me hone in on what I'm trying to say in every scene. But by spending a little more time on my outline and deciding for every scene what's the initial objective, what's the obstacle, and what's the outcome, my scenes stay on point better and I end up wasting less time writing scenes that eventually will get tossed because they don't move the story along enough. To this end, my new favorite tool for writing is a software program called Scrivener, which allows me to write each scene separately, reorder them simply by dragging and dropping the scenes in the Outline tool, color code my scenes at a glance to show the POV character or anything else I want to color code them for, and I adore its virtual bulletin board/notecard view where I can both color code the scenes, give them brief summaries to help jog my memory, and mark them as a rough draft, scene sketch, in need of more fleshing out, or final version ready to go. This allows me to both plot out my story ahead of time, rearrange as needed, see where I'm repeating scenes that could be better if combined instead, etc. I can also use this virtual notecard setup to help me revise my story after it's done, and all without having to kill trees by using real notecards that would be in constant danger from my kids and my cat if I tried to spread them out on the ground!

2. I've also learned an excellent tip about villains...if you don't know what happens next in your story, it's because you don't know your villian well enough yet, because the villain drives your story. They're the ones creating all the conflict for your hero or heroine to have to overcome.

3. And one last tip for more advanced level writing...wherever possible, a scene should do more than just one thing. So for instance, instead of writing a scene that only moves the external plot forward or only adds insight into a certain character's personality and motivation, the scene will read much faster and tighter if you can combine both plot advancement and characterization into just one scene.



02. Just to catch fans of the young adult paranormal genre up to date with the Clann Series, can you share with us a little back insight to the Clann and why Savannah's parents warned so much about Tristan without giving too much of the plot away?



Sure! The basic problem is that Savannah is half vampire and half Clann, and Tristan is all Clann and the Clann's future leader. The vampires and Clann are natural enemies of each other. They are both equally powerful. The vampires are drawn to the Clann descendants' powerful, energy-laced blood. But the Clann can kill the vampires with just a single thought or flick of their wrist. As the first known dhampir (half vamp, half Clann) in existence, she and her family have been cast out of the Clann since before her birth. To date Tristan would mean putting his life in danger if she loses control and kills him. And if she hurts Tristan, then the fragile peace treaty between the Clann and vamps will be destroyed, resulting in another worldwide war between the two groups. Since the last war between them lasted for decades and killed millions of Clann, vamps, and innocent humans caught in the crossfire, starting another war like it would be disastrous for everyone. The problem is Tristan never makes it easy for Savannah to resist him or the love they share, because to him there is nothing more important than that love.



03. Having two successful young adult novels now, are there any tips or tricks that you would share with anyone who was interested in getting involved with the writing industry?
Read and write constantly. It's a cliche because it's so true. When I take a break from writing and then try to get going again, it is SO HARD. It's like being an athlete. Those writing skills get rusty if they're not used at least every other day. When I read good writing by others, I am motivated to aspire to become as good as them, and I can see for myself what works in a good story and how. When I read an awful story, I see what doesn't work and why, and I remember that every single one of us has someone better than us to aspire to become as good as, and others out there who are just starting and might aspire to be like us someday.

Also, try to remember that writing is equal parts art and business. Before you write, you should know what's out there, what editors and agents are looking for, and pump your brain with as much knowledge about writing as you can. Then, when you sit down to write, trust your subconscious to remember it all while your conscious focuses on simply telling a good story.

And finally, try not to read the negative reviews. This was so hard for me in the beginning. I wanted to read everything to try and learn what I was doing right and wrong according to my readers. But then I started to see how the very thing that one reader loved another hated! Finally I began to understand that you absolutely can not please everyone, and even the biggest bestselling authors like R.L. Stine, James Patterson, and J.K. Rowling get crap reviews sometimes. All you can do as an author is try to tell a good story, something that resonates with you on a personal level, that excites you or moves you in some way, that puts out into the world some message you want to share with others. Listen to your agent and your editors, and be extremely open to taking their advice, because they're always going to be more objective than you as they look from the outside in on your finished story. Always work hard to learn something new about writing, whether it's a new process to try, a new tool or technique or writing device to implement, or simply a new way to look at writing as a whole. And then, when you're done with your latest story, immediately get to work on the next one! It's the best cure for wanting to read your own reviews.



04. I know that some authors are inspired by various things such as music, specific locations or places, a certain mood, or other authors they look up to - while writing both Crave and Covet, were you inspired by anything and what was it?
My inspiration comes from wildly varying places. I always turn to music while I write to help me get into and sustain the mood of the scene I'm working on, so I'll create both a playlist for the book as a whole, plus individual playlists aimed at eminating a certain mood (such as a Sadness and Loss playlist, Quiet Romance, Anger/Fighting, etc.) Sometimes I'll discover new bands or new songs by favorite bands that will kick my writing ideas into overdrive. For story premises, I tend to look at both personal issues from my current life as well as my past (I had a crap childhood, so there's almost always something to draw upon there!), as well as current political issues, emerging technologies and science, things like that. I never, ever have a shortage of story ideas, only a shortage of time to write them all within!



05. If you were to put a quick five track playlist together that told the story in Crave, what songs and artists would you choose and why?
Oh, that would honestly be fairly impossible to do. Crave is both Savannah and Tristan's story equally, and they go through way too many issues both individually as well as together as a couple for me to sum up Crave in only five songs. But you can find the playlist for Crave at the end of the story in its print and digital formats, as well as online athttp://www.TheClannSeries.com in the Music section of the site. You'll also find a playlist for Covet there, and Consume's playlist will become available there once Consume is released in the US in the fall of 2013.

.giveaway details.
Six daily winners will win a copy of Covet and one grand prize winner will win an amazing Covet prize pack! How awesome is that?!
a Rafflecopter giveaway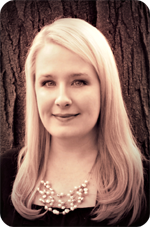 Melissa Darnell is the author of a growing list of adult and YA fiction and nonfiction books. Born in California, she grew up in Texas and has also called the following states home since then: Utah, West Virginia, Louisiana, Alabama, Kentucky, Iowa and South Dakota. She currently lives in Nebraska with her husband Tim and two children, Hunter and Alexander, where she enjoys watching Whale Wars, Glee and True Blood, designing digital graphic products for the virtual world of Second Life, and of course writing her latest book.

For information about her other books, please visit Melissa's website at www.melissadarnell.com.
Monday, October 8th - Harlequin Paranormal Blog
Tuesday October 9th - Mundie Mom's
Wednesday, October 10th - Two Chicks on Books
Friday, October 12th - Fiktshun

Monday, October 15th - Better Read Than Dead
Wednesday, October 17th - Reader Girls
Friday, October 19th - A Soul Unsung
Tour Bought To You By: