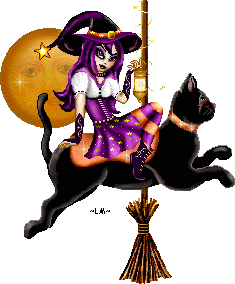 Glitter Text Generator
There is no doubt about it, Halloween is one of my

FAVORITE

holidays of the year for sure. I mean, come on...it's the one night of the year when you get to be something entirely different than what you already are and it's

FUN

too! Plus, you get lots of tasty little nummy treats, scary movies, awesomely creepy books, and maybe a few tricks lurking around the nearest corner. I remember, I always

LOVED

to dress up every year when I was a kid, one year my sister and I went as one of the

Garbage Pail Kids

and we had to wear those plastic costumes and masks that were kind of flimsy but it was so much fun. I think that was the year that the stores in the local Mall opened their shops door to everyone who wanted to bring their kids to trick-or-treat there - it was their way of providing a safe and happy Halloween environment and those lines were looooooooooong, but so worth it in the end. They had the

BEST

candy!
I hope that you have a happy, safe, and awesome-tastic halloween. Get lots of nummy treats and share a few tricks. If you're thinking of staying in and curling up with a book, then I'd suggest either

Anna Dressed In Blood

or

The Girl of Nightmares

because those two will definitely give you a few spine-tingly chills. If you're a daredevil like me and love the thrills and chills of it all, then I suggest reading it in a dimmed room, by a window, with a couple of candles lit around you. *g* And if you're not in the mood to read, then curl up with the original

Halloween

because it's the scariest in my opinion or some other super scary and creeptacular vintage horror movie of your choice and just veg with popcorn and candy!
What was your favorite Halloween costume as a kid? Favorite candy? Favorite movie or scary book? Favorite ghost story or did you even celebrate Halloween?!