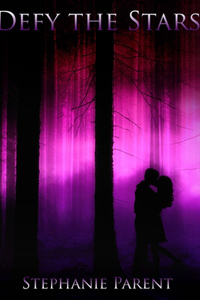 Published: July 30, 2012
Publisher: Amazon Digital Services
Age Demographic: YA Romance
Pages: 596
Julia Cape: A dedicated classical piano student just trying to get through her last semester of high school while waiting to hear from music conservatories.

Reed MacAllister: A slacker more likely to be found by the stoners' tree than in class.

Julia and Reed might have graduated high school without ever speaking to each other…until, during a class discussion of Romeo and Juliet, Julia scoffs at the play's theme of love at first sight, and Reed responds by arguing that feelings don't always have to make sense. Julia tries to shake off Reed's comment and forget about this boy who hangs with the stoner crowd—and who happens to have breathtaking blue eyes—but fate seems to bring the two together again and again. After they share an impulsive, passionate kiss, neither one can deny the chemistry between them. Yet as Julia gets closer to Reed, she also finds herself drawn into his dark world of drugs and violence. Then a horrific tragedy forces Julia's and Reed's families even farther apart…and Julia must decide whether she's willing to give up everything for love.

Defy the Stars is written in an edgy free-verse style that will appeal to fans of Ellen Hopkins and Lisa Schroeder; however, the writing is accessible enough to speak to non-verse fans as well. The novel's combination of steamy romance and raw emotion will appeal to fans of Gayle Forman, Simone Elkeles, Jennifer Echols, and Tammara Webber. With a story, language and form that both pay homage to and subvert Shakespeare's play, Defy the Stars is much more than just another Romeo and Juliet story.
To Purchase Defy The Stars: Amazon

What Comes Next: My Future Goals (and Fears!)
By: Stephanie Parent
This guest-post topic was another one suggested by a wonderful blog reader, Lyn, and I'm so excited to have the opportunity to talk about my goals, plans and hopes for my writing career!

Overall, my goal is not to become a super-popular, best-selling, or award-winning author; I would be happy just to earn enough from my writing to make a decent living. Now I realize even that is a long shot, and whether or not I make it, it's just as important to me that each book I write is better than the one before. At the same time, I want to take risks and try different things…hopefully without falling flat on my face, although I'm sure that will happen at some point!

Many of the most popular verse novelists, including Ellen Hopkins, Sonya Sones, and Lisa Schroeder, have written all or most of their novels in verse form. However, after writing Defy the Stars, and a previous novel in verse as well, I've decided that I'd like to return to prose for the time being. I'll admit this choice is partly a practical one—publishers seem less likely to buy verse these days, especially from new authors—and I'm sure I will write in verse again in the future. However, I've never thought of myself as a writer who ties herself to any one form—I want to tell each individual story the way it needs to be told.

So my next novel is not in verse, and on top of that, it's VERY different from Defy the Stars. I can't say too much about it at this point, but I will say that it's historical fiction—and not even recent history, but the Early Bronze Age, around 2300 BC!—with a bit of a fairy-tale element. While the story does include romance, it's not nearly as romance-oriented as Defy the Stars, and the overall action occurs on a much more epic scale. In addition, since my agent and I are aiming for traditional publication, it probably won't come out till mid-2014. So am I scared that I'm going to lose any fan base I've acquired from Defy the Stars? You bet! In fact, I would love to release another YA contemporary for kindle in 2013, if it's in the stars (pun intended!). However, I'll only do that if I can write something really worthy of being shared!

Overall, as a reader I love a variety of genres, so as a writer I want to write nearly everything! YA, adult, and middle grade fiction…a thriller, a mystery, a ghost story, a few fairy-tale retellings, a fun chick lit, maybe even a half-graphic novel/half-traditional novel… I realize it may be hard to build up a fan base if I keep jumping genres, and I may end up focusing on one type of novel for a while. However, what I hope will tie together all my work is my emphasis on character, honest emotion, and good storytelling.

I also have to add that I don't see myself as a series writer, at least not for now. When I finish writing a book, I tend to feel that those characters' stories are over, or at least my part in them is. They hopefully continue to live on in readers' heads!

One of the crazy things about writing is that, especially in this scary but exciting age of digital publishing, there really is no way to plan too far ahead. Everything's changing, and right now no one knows exactly where publishing will be in ten years or so. All I can do is write the best books I'm capable of, with concepts that interest me, and hope for the best. And, of course, I'll continue to be ever so grateful to readers for sharing the journey!

.giveaway details
1st prize: $30 gift card from Amazon and a e-book copy of Defy the Stars.
2nd place: 4 e-book copies of Defy the Stars.
Additional Prize: A query letter critique by Stephanie Parent.
All giveaways are open internationally!
a Rafflecopter giveaway
a Rafflecopter giveaway