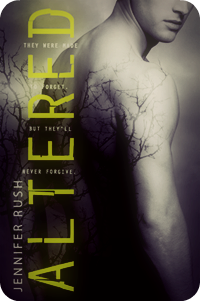 Altered by Jennifer Rush
Published: January 1, 2013
Publisher: LBYR
Age Demographic: YA Dystopia
Pages: 336
When you can't trust yourself, who can you believe?

Everything about Anna's life is a secret. Her father works for the Branch at the helm of its latest project: monitoring and administering treatments to the four genetically altered boys in the lab below their farmhouse. There's Nick, Cas, Trev . . . and Sam, who's stolen Anna's heart. When the Branch decides it's time to take the boys, Sam stages an escape, killing the agents sent to retrieve them.

Anna is torn between following Sam or staying behind in the safety of her everyday life. But her father pushes her to flee, making Sam promise to keep her away from the Branch, at all costs. There's just one problem. Sam and the boys don't remember anything before living in the lab—not even their true identities.

Now on the run, Anna soon discovers that she and Sam are connected in more ways than either of them expected. And if they're both going to survive, they must piece together the clues of their past before the Branch catches up to them and steals it all away.



Altered is an astonishingly intriguing debut novel filled with incredibly mystery and a wonderfully engaging plot line sure to captivate any reader. The twists and turns are brilliantly clever and will whisk readers away on a whirlwind story, that barely slows down enough for one to catch their breath. Jennifer Rush pens an unexpected and entertaining young adult debut sure to capture the hearts of many. It's full of cutting edge originality and is a breath of fresh air, for a young adult genre filled with so many similarities.

Altered is such a phenomenally character and action driven young adult novel, that will definitely rank high on the list of must-read's for 2013. There is truly magnificent character development, engaging action, and fantastic plot that will draw readers in and keep them glued to their seat. The whole concept of the book, is well thought out and intriguing. Each of the guys come with their own unique character traits and appealing qualities about them that make them shine and stand out in their own separate ways. It's incredibly fast-paced and unpredictable in a lot of amazing ways.

Altered is addictively wonderful and superbly written. Hats off to Jennifer Rush for creating such an imaginative, mysterious, and terrifically written attention grabbing debut novel that readers will simply not want to put down until they've finished the last page. It is the perfect novel filled with many amazing qualities that any book should be full of. Romance, action, adventure, enjoyable characters, and intrigue fill the pages with so much wow factor that readers will be clamoring for the next installment. This is the perfect read for any sci-fi fantasy or hardcore dystopian fan. Incredibly unputdownable!!!