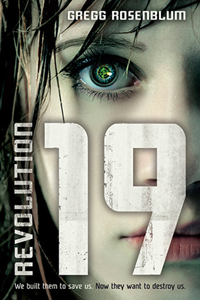 Revolution 19 by Gregg Rosenblum
Expected Publication: January 8, 2013
Publisher: HarperTeen
Age Demographic: YA Dystopia
Twenty years ago, the robots designed to fight our wars abandoned the battlefields. Then they turned their weapons on us.

Only a few escaped the robot revolution of 2071. Kevin, Nick, and Cass are lucky —they live with their parents in a secret human community in the woods. Then their village is detected and wiped out. Hopeful that other survivors have been captured by bots, the teens risk everything to save the only people they have left in the world—by infiltrating a city controlled by their greatest enemies.

Revolution 19 is a cinematic thriller unlike anything else. With a dynamic cast of characters, this surefire blockbuster has everything teen readers want—action, drama, mystery, and romance. Written by debut novelist Gregg Rosenblum, this gripping story shouldn't be missed.


Revolution 19 is a compelling and adventurous post-apolocalyptic young adult novel, sure to get anyone's blood pumping. Fast paced and full of wonderful drama and action, this is a novel that will knock your socks off. Gregg Rosenblum has written an incredibly dymanic thriller, full of mystery, romance, and suspense. With an intriguing cast of characters, brilliant plot development, and tons of action and drama. This is a surefire winner from a new debut author blasting onto the scene with intense and incredible talent for captivating anyone with his stunning abilities to tell a story in such a cinematic way. The world he creates is unlike anything else I've read closely compared to it in the young adult genre. When opening this book from the first page and diving in, it's almost as if you are stepping inside a real live movie and fighting for survival to live through the aftermath of the robot revolution and the remains left behind.

The strength, courage, and sacrifice that the three main characters (Nick, Cass, and Kevin) show is incredibly overwhelming, when faced with the odds of possibly never getting to see their family members or friends alive again. Their relationship with one another was one of the things that I liked best, while reading about them. Rosenblum does a wonderful job of showing character depth and has taken the best care to write them in such a relatable and likable way that reader's will be able to identify with them and sympathize with their situation. Each of them has their own strengths, weaknesses, and distinct qualities that make them stand out on their own.

The world Gregg Rosenblum creates is incredibly intriguing and his attention to detail is amazing. The world in Revolution 19 is jam packed with the right amount of fear and action, that it leaps to life off of the pages. In some ways, it's chill-inducing and has a way of creating the feel of panic. The twists and turns will leave your head reeling. It's an intriguing new debut young adult book that you will definitely not want to miss out. If you enjoy dystopia, action, and suspsense then this is defintiely the book for you.