Have you guys been having a fabulous time reading along with us in

Anna and the French Kiss

these last two weeks?!



Molli

and I have had an absolutely

BLAST

co-hosting this fantastic event for you guys! She's done a truly terrific job of picking up my slack for this second week, because I've had a few personal things come up that needed my attention, so I've been running a bit behind. However, I am back in action today, and ready to take on all of my assignments for the rest of this week and for the third and final week in our read-a-long. I'm kind of sad to see it coming to an end, because I've been having such a super teriffic time with reading

ANNA

for the first time and getting to know you guys and seeing all of your different perspectives on the book.

By now we've gotten through the first and second set of discussion questions and tomorrow, the answers for the second set will be going up on both mine and

Molli's

blog, along with the linky for you to link up the answers to yours. (Important: Remember that every time you link up ANYTHING it is another entry into the giveaway you don't want to miss out on!) Since I'm playing catch up, I'm going to ahead and post the vlog that I made answers the first set of discussion questions for Chapter's 1-16, and tomorrow I will post the second vlog with the answers to the discussion questions for Chapter's 17-31.
Discussion Answers for
Chapters 1-16

Today, we have a brand new challenge for you! We want you to tell us about an experience YOU had in high school (or college) where you can relate to Anna!

All you have to do to participate in this challenge, is create a post telling us about an experience that you had in high school (or college) where you could find yourself relating to Anna, then share the link with us in the linky below. Doing this will earn you an extra entry into the supa-SEKRET-giveaway for a copy of Ilsa.

Super-SEKRET-Giveaway
ISLA AND THE HAPPILY EVER AFTER
By Stephaie Perkins
a Rafflecopter giveaway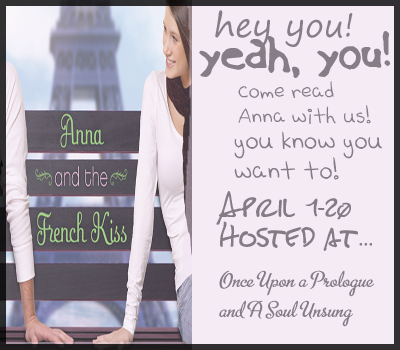 Hosted By: Molli @ Once Upon A Prolouge & Suz @ A Soul Unsung
REMEMBER
Doing all of the fun challenges and link-up's could possibly earn you extra entry(ies) into the giveaways.