Hey you guys we hope that you have been having a fabulous time reading along with us in
Anna and the French Kiss
these last few weeks!



Molli

and I have had an absolutely BLAST co-hosting this fantastic event for you guys! The final week is here and I can hardly believe it. Are you guys ready for your final set of discussion questions?! *Can't wait?!*

Here they are. :)
Discussion Questions for
Anna and the French Kiss
Read-A-Long Chapters 32-47
St Clair knows he needs to make a decision about his relationship with Anna, but his hesitation only hurts her. Do you sympathize with him?

Anna is hurt by St Clair, and makes some bad decisions, relationship wise. Do you sympathize with her, or not?

How would you have reacted in the park if you were Meredith? How do you think Anna handles the fall out with Meredith?

Anna has a meltdown in Chapter 42 – do you think this was a break-through for her? St Clair tells her that he isn't the only one who is afraid of being alone. Do you think Anna ever realized this before now?

Were you proud of Anna for the steps she takes to repair the relationships in her life?

Don't forget to check out the newest and final challenge, below!

All you have to do to participate in this challenge, is post a review of Anna and the French Kiss, then share the link with us (to where your review was posted - your blog, goodreads, librarything, amazon, etc.) in the linky below. Doing this will earn you an extra entry into the supa-SEKRET-giveaway for a copy of Ilsa.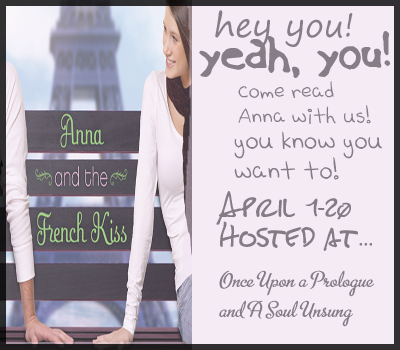 Hosted By: Molli @ Once Upon A Prolouge & Suz @ A Soul Unsung
REMEMBER
Doing all of the fun challenges and link-up's could possibly earn you extra entry(ies) into the giveaways.