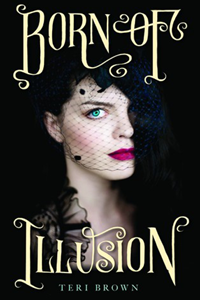 Born of Illusion by Teri Brown
Published: June 11, 2013
Publisher: Balzer + Bray
Age Demographic: YA Paranormal Mystery
Pages: 384
Anna Van Housen helps her medium mother Margeurite do stage shows and seances in 1920s New York. Possibly Houdini's daughter, she can sense feelings and see the future. Frightening visions show her mother in peril. New downstairs neighbor Cole introduces her to a society that studies people with gifts like hers. Sorting truth from illusion yields her destiny.


To Purchase Born of Illusion by

Full of mystery and intrigue,

Teri Brown's

Born of Illusion

will absolutely leave you spellbound with its mystical enchantments. It's breathtaking and enchanting in ways that will keep you caught up in the pages thoroughly captivated. Beautifully written and full of mystique, this is a beguiling story filled with wonderful magical elements and hints of dark secrets sure to tantalize and tease your appetite.

Brown's

writing style is superb and the mystical story that she weaves will have you tangled up in no time and ensnared in its glorious web. The overall feel and theme of

Born of Illusion

will send you back in time to the roaring 1920's and leave you reeling from the fantastic atmosphere.



Teri Brown

write's her characters in such a way that they come across real and incredibly easy to connect with both emotionally and in many other ways. The dark and illustrious story that she weaves together involving mediums and magic from the glorious 1920's era, will leave you gasping for air. The story, as much as the characters themselves, are complex and complicated. Dark and seductively beguiling in every sense of the word,

Born of Illusion

, is probably one of the more suspenseful and magical books that I've read within the last year. Brown's writing is as challenging as her characters are illuminating, which makes this novel even more fantastical!

Anna, is such a strong well liked character, that comes with her own set of circumstances that she has to deal with. Brave and careful, are the best two words that I could possibly pick to describe her. She longs for a sense of normalcy, yet it seems that around every corner, she finds something else besides that lurking in the shadows. In spite of everything that she has to endure and always coming second to her mother, she is still very protective of those she cares about at the end of the day. This is part of what makes her such an amazing heroine to root for. Her story leaps to life on the pages in so many interesting and inspiring ways, that it's hard not to come away loving this character whole heartedly.

The love triangle in this young adult mystery novel, was written in such a clever way that in many instances it didn't at all feel as if I were reading a love story with a triangle in it at all. This is the mark of a great author, when they can take a cliche or troph that you would normally dislike and write it in such a way that you actually didn't realize it was there, until you were finished reading. I loved that just about as much as I loved getting to know the two boys in Anna's life, most especially the one who ultimately wins her heart. Watching that romance develop was about as charming and sweet, as the boy himself was.



Born of Illusion

is such a fantastic young adult mystery, that you'll definitely want to get caught up in and swept away in the magic. The atmosphere is rich and amazing, as it pulls you into the story and it comes alive to the sound of the roaring 1920's in the distant background. It will make you long to step inside the

TARDIS

and take a ride back in time to another place, filled with mystery and intrigue, dark secrets, and gripping mediums and magicians. Beautifully compelling, I would recommend picking this novel up and giving it a go.