You guys! I am super incredibly

excited

to be a part of the amazing
Deadly Kisses Trailer Revea

l!
Isn't it all very exciting?! Can't you just feel the tension…?
Here's the scoop on
DEADLY KISSES
by Kerri Cuevas!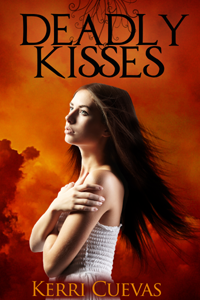 In DEADLY KISSES, Aiden Grant has a killer kiss. Literally. And it's not every reaper who gets to work with the Sixteenth President. Sure, Honest Abe likes to throw out history lessons with reaping assignments, but when you're favored by the ancients, grim reaper life is pretty sweet for a newly dead seventeen-year-old.
Then things get messy.
Aiden is assigned to reap the soul of Bee, the only girl he has ever loved. When Aiden's kiss of death fails, intertwining their souls, she is still very much alive and they are both in trouble. The ancients want Bee, who has special powers of her own, and they'll do anything to get her.
Some rules are meant to be broken, even if that means Aiden must bargain with his own soul to save Bee. Who knew the afterlife could get so complicated?
Hold onto your socks like whoa, because there are going to be two giveaways. Yep, you heard me right. I said two giveaways and you can find all of the information down below!
The first giveaway is from the Kerri, herself, and it consists of a signed book and one original piece of artwork signed by the artist that the winner can choose from 8 different pieces. The second giveaway is from the artist and it is for a free book trailer good for one year.
Really, how awesome is that?!
I know that you know that you don't want to miss out on either one of these giveaways, so all you have to do is fill out either or both of the Rafflecopter's below and you'll be entered to hopefully win. That's it, easy peasy.
Good luck and may the odd's be ever in your favor. *g*
Giveaway #1
a Rafflecopter giveaway
Giveaway #2
a Rafflecopter giveaway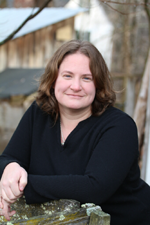 Kerry Cuevas

was born and raised in Rhode Island. She moved to New Hampshire with her husband, three kids, cats and a rabbit named Hercules in 2005. When she's not writing, she's chasing chickens on her small farm or searching for the ultimate mac-a-cheese recipe.
Kerri went to college for Early Childhood Education but now writes books for young adults full-time. Her storytelling stems from watching too many horror flicks as a teen, but she no longer needs to sleep with the lights on.