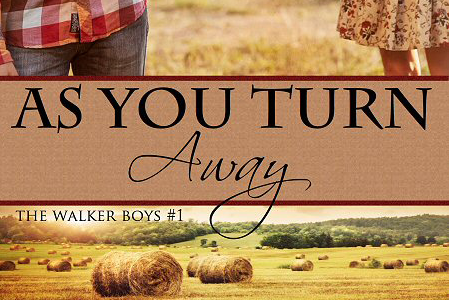 Beautiful Cover Designed By
Marie Landry
I almost feel like I've been waiting to reveal this cover all my life, because I know that

Molli

has! And now the moment is finally here, because THIS YEAR she is finally releasing her debut New Adult romance novel,

As You Turn Away

, the first book in the

Walker Boys

series. I know you are absolutely going to fall in love with this beautifully written and emotionally charged book, because I already have begun to. I'm lucky enough to be one of the beta readers for it and I cannot wait to tell you all my thoughts about it.

Three words for you, swoon-worthy boys!

Yep, that's who those feisty southern boys full of charm and armed with shit-eatin' grins are made of.

YOU ARE NOT GOING TO WANT TO MISS OUT ON THIS!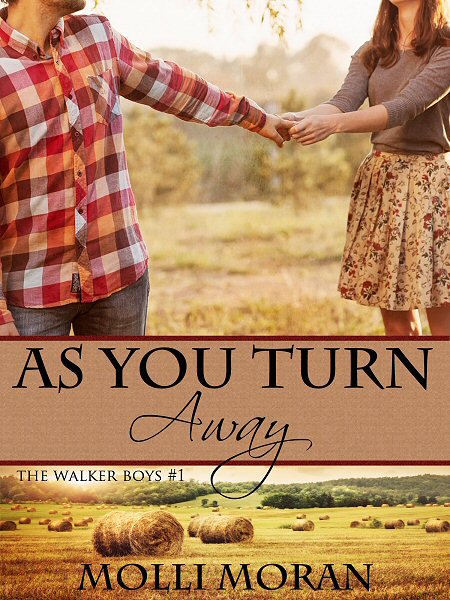 As You Turn Away (The Walker Boys #1)
New Adult Southern Romance
When Quinnlan Reynolds left home at 18, she escaped her small, Georgia town and her suffocating upbringing. She started a new life as a ballerina, and tasted freedom for the first time. But four years later, her first visit home turns tragic. Reeling, Quinn tries to piece her life back together again. But doing so is easier said than done when sexy Jonah Walker saunters back into her life.

Quinn shattered Jonah's heart once, so getting involved with her isn't something he's sure he's ready to do again. He became someone he didn't recognize when he left home. He's spent the last years burying his pain by keeping everyone in his life at arm's length. Now he needs to get to know his family again, and finally become who he wants to be.

But neither Quinn or Jonah can stay away from each other, especially when old feelings resurface. Something is pulling them back together, and they can't deny their chemistry for long. One Georgia summer could change both their lives forever, if they can work through their past to have a future together.
How beautiful is that stunning cover?!

Just simply gorgeously designed by one of the most talented people I know of,

Marie Landry

, whom I'm lucky enough to call friend. I love everything about it, lord I can't begin to tell you how emotional I've been over this, I cried the first time I saw it. I think I cried, because I know how important it is to

Molli

to be able to reach out and touch people with this book, as much as it touched her writing it. She's all about

THE FEELS

and this book has it in spades!

Personal growth, life experiences, chasing down dreams, dealing with inner struggles, and romance!

This is the book you'll want to read this year! And, if you're not convinced yet,

Molli

has so graciously and generously provided a small excerpt to help convince you to pick it up and give it a whirl.
Excerpt #1: Flashback | Jonah and Quinn meeting




As You Turn Away (The Walker Boys #1)




Written by Molli Moran




"I was thinking about your eyes." Quinn clapped her free hand over her mouth, but not fast enough to muffle the squeak she made. "I mean, I wasn't. I mean, I was, but not like - " She fumbled, and finally shut her mouth, since Mystery Guy wasn't going to offer her a graceful way out of the mess she'd made.
"Well, I like them too, but this is the first time they've had this effect."

By some miracle, he was still talking to her. Quinn dropped her hand to her side, and then yanked the other one away from his when she realized she was still touching him. His skin was warmer than hers, the sort of heat that zinged through her. "What effect?"

"Rendering a pretty girl speechless." He grinned at her, and opened the door to the restaurant. "After you..."

"Quinn." She reached for the door handle again; her hand closed around metal this time. "Quinn Reynolds." Oh, his voice. He should be announcing radio. Or saying her name, over and over again.

"Jonah Walker. Nice to meet you, Quinn." Another smile, this one heart-stopping in its glory.

Walker? As in Walker Farms? As in Reece Walker? Reece was something of a legend; even Quinn knew who he was. Reece was one of the best baseball players to come out of their town's program in the last five years. But he was also known for being a heart-breaker, a hard partier, and the ultimate bad boy. Quinn honestly lost count of the number of lectures she'd set through from her mother about how Quinn was not to socialize with any of the Walker boys.

"You too." Quinn barely let herself return his smile before she darted into the diner and to her booth. She didn't trust herself to look back at Jonah, because she already knew no matter what, staying away from him would be impossible.
I could die from

THE FEELS

alone reading that! I'm talking about bag of butterflies flittering around inside my stomach right now, because it's so sweet, endearing, and charming.

MORE THAN ANYTHING, IT'S REAL!

That is important when I'm reading a book, the romance has to be sweet, subtle, and not instant right out of the box pudding in your face. I love how

Molli

refuses to be generic in

ANYTHING

that she does, which says

A LOT

about her as an individual and the integrity that she possesses.

She's offering a giveaway for a $10 gift card to either Amazon or B&N, you can enter via the Rafflecopter below. Good luck!
a Rafflecopter giveaway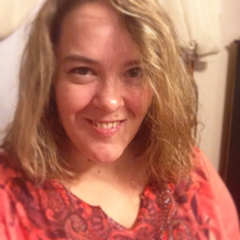 Molli

is a Southern writer who doesn't consider her day complete if she hasn't written. She loves coffee and talking fast, things she attributes to being raised by

Gilmore Girls

. She's a romantic at heart, and brings that to her books. When not reading or blogging, she can be found obsessing over

Doctor Who

, cuddling her various pets, or spending time with friends, family, or her girlfriend.
Add As You Turn Away To Goodreads