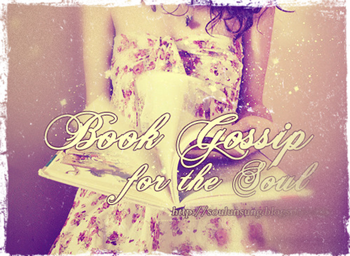 Book Gossip

For The

Soul

was originally inspired by Stacking The Shelves hosted by the lovely

Tynga @ Tynga's Reviews

. Every month, I'll post either a vlog or a post showing off all the books that I've received for review, bought, won, or borrowed.
This one is for the month of June 2014 and I hope that you guys enjoy it! I've already read a couple of fantastic summer reads that I think you guys will really like and I have some fun books that I received for review and/or checked out for the library planned for my June TBR, plus a few recommendations from some friends of mine. So, that's going to be a lot of fun, and if you want to check those out keep watching the video. I'll be back within the next week or so with another vlog, featuring some of my favorite go-to Summer Reads and some recommendations, as well as a few more I'll be planning on reading. :)
If you've read any of these books, shared reviews on either your blog or Youtube channel, then leave a comment in the comments or downbar below and share your link letting me know what you thought of them. If you have any suggestions on books you think I might like to read (should be reading already), then definitely leave those below too. I'll be more than happy to come visit your channel or blog and leave comments on your recent hauls/reviews, etc.
I hope you guys enjoyed this!
You can find a list of the books mentioned below, as well as a link to their Goodreads page!
Sinner (Wolves of Mercy Falls #3.5) by Maggie Stiefvater

Moon At Nine by Deborah Ellis

Let the Sky Fall (Let the Sky Fall #1) by Shannon Messenger

(Don't You) Forget About Us by Kate Karyus Quinn

Find Me Where the Water Ends (So Close To You #3) by Rachel Carter

The Half Life of Molly Pierce by Katrina Leno

City of Heavenly Fire (TMI #6) Cassandra Clare

Will Grayson, Will Grayson by John Green & David Levithan

Fallen Too Far (Too Far #1) by Abbi Glines




Never Too Far (Too Far #2) by Abbi Glines


Forever Too Far (Too Far #3) by Abbi Glines
Guys, if you haven't done this already, then you need to add

As You Turn Away

by

Molli Moran

to your Goodreads TBR shelves, now! You are so not going to want to miss out on this new southern New Adult romance novel, filled with swoon-worthy boys with shit eatin' grins and tons of charm, plus beautiful feels that will break you in two. And, also check out

Waiting For the Storm

by

Marie Landry

too. These two books are the most perfect summer reads that I can recommend right now, as well as

Not Until Tonight

by

Jessica Sankiewicz

.
Don't forget to check out
my youtube
channel!
Like me, thumbs me up, leave a comment with your link and I'll get back with you asap also if you have any Summer TBR recommendations, please feel free to leave them in the comments section down below and I will totally check them out!