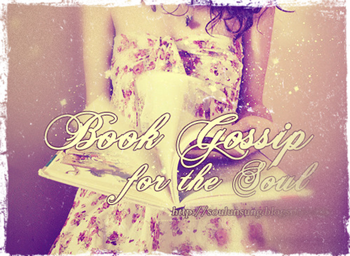 Book Gossip

For The

Soul

was originally inspired by Stacking The Shelves hosted by the lovely

Tynga @ Tynga's Reviews

. Every month, I'll post either a vlog or a post showing off all the books that I've received for review, bought, won, or borrowed.
Today I want to talk about all of the wonderful review books I have received for
January 2015
and I hope that you guys enjoy it!
I've got a small little book haul for you, a collection of review books/ARC's for blog tours, review, and one book that I splurged and bought for myself over the Christmas holiday, because I'd been hearing so many great things about it from various Booktubers out there. I'll go ahead and list that information out for them down below, in case you want to see what any of them are about or are just generally interested.
I will be reading

Seraphina

and

Shadow Scale

in

February

and will be posting reviews + a giveaway for each book in March as well, so be watching my blog for that. I will also be reading

Empty Cup

in February and reviewing it on the blog March 13, 2015, so definitely check the blog then too if you'd like to know my thoughts on it. I've already read all of the novella's in

The Bane Chronicles

, except the last one because it has spoilers for the last book in the TMI series and I don't want to spoil myself. I will be writing a review for the book coming up soon, I'm hoping to get that one posted sometime next month.
Breaking Nova

and

Saving Quinton

aren't pictured, because I didn't receive them in the mail until yesterday and I had already uploaded the vlog.
(Releases March 10, 2015)

(Blog Tour + Review)
If you've read any of these books, shared reviews on either your blog or Youtube channel, then leave a comment in the comments or downbar below and share your link letting me know what you thought of them. If you have any suggestions on books you think I might like to read (should be reading already), then definitely leave those below too. I'll be more than happy to come visit your channel or blog and leave comments on your recent hauls/reviews, etc.
So what books have you guys received, share a link to your vlog or book haul in the comments below! :)
Small Note:

I have received five out of seven of these books via the publishers in exchange for an honest review, which I will be soon providing for each of them. I do not accept payment for my reviews, because I love reading and sharing my honest thoughts and opinions on books in general.