Solid
By: Shelley Workinger
E-Book Provided by Author
b&n // amazon
Published Date: July 09, 2010
Publisher: CreateSpace ;; Self-Published
Book Format: Paperback; pp 236
Age Demographic: Young Adult

Teens who discover they were secretly genetically altered before birth are brought together at a classified site where they develop "super-abilities", while at the same time forging new friendships, finding love and unearthing a conspiracy.

Clio Kaid may be 17 and just beginning the last summer before her senior year, but her life is anything but typical.

She's just discovered she was genetically altered before birth and is now headed to a top-secret Army campus to explore the surprising results of the experiment.

Follow Clio and the other teens as they develop fantastic super-abilities, forge new friendships, find love, and uncover a conspiracy along the way.

*Summary taken from Amazon.
❝My Thoughts❞
First, I have to say that I was thrilled when I was approached via email by
Shelley Workinger
and asked to read and review
Solid
here at my blog. It's always a very nice and humbling experience when an author contacts you and asks if you'd like to read and review their novel. She was delightful to talk to, in our email exchanges and I was very appreciative that she asked.
From the moment I started reading this book, I was hooked. It was easy to read and I found myself wanting to devour more and more of it, until I was finished. It was interesting, plot-driven, and filled with many likeable characters. There was never a dull moment in this book, it got right to the point and stayed with it all the way up until the end where I was left wanting more, once I had finished it.
The plot development was very well fleshed out in terms of illustrating the conflicts and resolutions within the novel and the pacing of it was pitch perfect creating an easy atmosphere for the reader to sink into. The witty banter and wonderfully crafted dialogue between the characters helped to provide such an entertaining and captivating reading experience. It was humorous in all of the right places, where comedic relief was somewhat needed as it delved further into the plot.
As far as the scientific element goes, even though it was well illustrated I wish that it would have been fleshed out and developed just a bit more, but I think that will come with the second novel in the series
Settling
. For now, I'm pleased with the explanations and reasons given. It was easy to see how genetic mutations could very easily happen, in a world where technology advances has come so far, and there are people in the world that will always be there to abuse those further advantages in the field of sciences.
Workinger
, easily proved that to be the case in this novel, as unsettling as the thought may be.
As for the characters themselves, they were very memorable and likeable all on their own, as I mentioned earlier. It's hard to pick just one as a favorite, when I really enjoyed them all for their own reasons. They were all unique and very well built, with a multitude of characteristics that made each of them stand out and be essential to the success of this novel and the plot itself.
One aspect of the novel that I really did end up enjoying was the fact that the plot wasn't over-shadowed by a love story and there wasn't a love triangle looming in the midst. The connection between Clio and Jack was a natural progression that ended up having a sweet happy ending and it didn't get in the way of the plot, it actually worked well when paired with it. Plus, I enjoyed the lovable playful banter between Clio and Garret. Bliss ended up being a wonderful friend and confidant to Clio and even Miranda (as annoying as she could be sometimes) possessed a heart that cared enough to want the best for all of them.
The dynamic these characters possessed lent itself quite well to the plot of the novel. Where one possessed a weakness, the other's made up for it in strength. There's something to be said for strength in numbers and I am always a fan of unlikely characters in books meeting randomly and falling easily into becoming friends in any novel, television show, or movie that I read or watch. It is no different with this novel and it was one of my favorite things about it.
It showed that sometimes being different can be a good thing and in turn, you can benefit from it somehow. I think the novel did a wonderful job illustrating that point, with these core four.
Workinger
did an amazing job in building and constructing the back story for this series with a style and finesse all her own, as well as creating a world filled with quirky, bright, and memorable characters that I'm excited to see what they're next adventure will be. The emotion illustrated by the character's in this novel is brilliant and it leaves them staying with you, long after you've turned the last page. This is a world that I find myself wanting to delve further and further into, to get a sense of what other sinister plot to create a super-human army out of what would otherwise be normal teenagers is going to entail and what else is going on just beneath the surface. What else is in store for the reader? We shall see in,
Settling
.
If you find yourself a fan of esteemed authors such as these, James Patterson, Veronica Roth, Rachel Ward, Beth Revis or even Kelley Armstrong, then I would definitely recommend this novel. I am easily giving
Solid
five stars (which, is something I rarely do), because I found myself genuinely enjoying every minute of reading this.
Workinger
has clearly proven that she can uniquely write a very well developed and highly entertaining novel, in my opinion.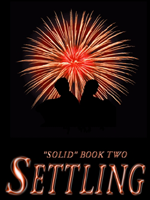 To Purchase "Solid" or "Settling":
Solid
|
Settling
For More Information:
Shelley Workinger
|
Solid Series
|
Goodreads
|
Twitter
|
Facebook
{Small Note: This book was received via a request from the author, Shelley Workinger, in exchange for an honest review which I have provided. No money exchanged hands, I review books for fun because I love to read. I am not interested in monetary gain.}