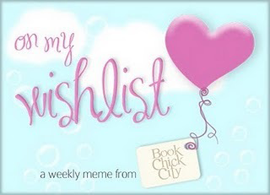 ON MY WISHLIST is pretty much a weekly event where you gab about all of the latest books (some old, some new, maybe a little borrowed, and some have even been known to be blue...haha!) that you want and can't really afford to buy. You get a bit listy with it and list 'em all here ever Saturday.

And it's brought to you by the lovely, BOOK CHICK CITY and you can get all of the details here. This week for me it's, Die For Me, Hereafter, Chime, and Shine which pretty much consist of my "omigod *flaily grabby hands* gotta have it!" books.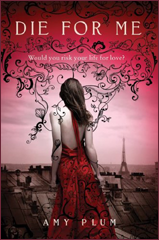 Die For Me (Revenants #1) by Amy Plum
DIE FOR ME is the first of three books about Kate, a sixteen-year-old American who moves to Paris after the death of her parents. It introduces a new version of the undead with revenants, beings who are fated to sacrifice themselves over and over again to save others' lives.


Kate finds herself falling for Vincent, who she discovers is not the typical French teenager he appears: he is something else entirely.


DIE FOR ME presents a new supernatural mythology presented in a city where dreams are sometimes the same as reality.
Hereafter (Hereafter, #1) by Tara Hudson
Can there truly be love after death?

Drifting in the dark waters of a mysterious river, the only thing Amelia knows for sure is that she's dead. With no recollection of her past life—or her actual death—she's trapped alone in a nightmarish existence. All of this changes when she tries to rescue a boy, Joshua, from drowning in her river. As a ghost, she can do nothing but will him to live. Yet in an unforgettable moment of connection, she helps him survive.

Amelia and Joshua grow ever closer as they begin to uncover the strange circumstances of her death and the secrets of the dark river that held her captive for so long. But even while they struggle to keep their bond hidden from the living world, a frightening spirit named Eli is doing everything in his power to destroy their newfound happiness and drag Amelia back into the ghost world . . . forever.

Thrilling and evocative, with moments of pure pleasure, Hereafter is a sensation you won't want to miss.
Chime by Franny Billingsley
Before Briony's stepmother died, she made sure Briony blamed herself for all the family's hardships. Now Briony has worn her guilt for so long it's become a second skin. She often escapes to the swamp, where she tells stories to the Old Ones, the spirits who haunt the marshes. But only witches can see the Old Ones, and in her village, witches are sentenced to death. Briony lives in fear her secret will be found out, even as she believes she deserves the worst kind of punishment.


Then Eldric comes along with his golden lion eyes and mane of tawny hair. He's as natural as the sun, and treats her as if she's extraordinary. And everything starts to change. As many secrets as Briony has been holding, there are secrets even she doesn't know.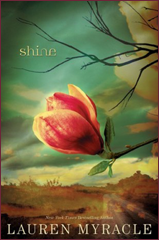 Shine by Lauren Myracle
When her best guy friend falls victim to a vicious hate crime, sixteen-year-old Cat sets out to discover who in her small town did it. Richly atmospheric, this daring mystery mines the secrets of a tightly knit Southern community and examines the strength of will it takes to go against everyone you know in the name of justice.


Against a backdrop of poverty, clannishness, drugs, and intolerance, Myracle has crafted a harrowing coming-of-age tale couched in a deeply intelligent mystery. Smart, fearless, and compassionate, this is an unforgettable work from a beloved author.