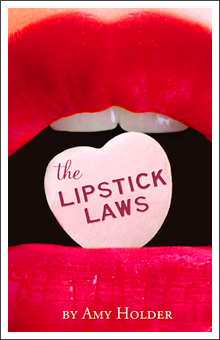 The Lipstick Laws by Amy Holder
Book Review
At Penford High School, Britney Taylor is the queen bee. She dates whomever she likes, rules over her inner circle of friends like Genghis Khan, and can ruin anyone's life with a snap of perfectly manicured fingers. Just ask the unfortunate few who have crossed her.


For April Bowers, Britney is also the answer to her prayers. April is so unpopular, kids don't even know she exists. But one lunch spent at Britney's table, and April is basking in the glow of popularity. But Britney's friendship comes with a high price tag. How much is April willing to pay?
Pub. Date: April 2011
Publisher: Houghton Mifflin Harcourt
Format: Paperback, 240pp
Age Range: Young Adult
First of all, the cover of this book was part of the reason I wanted to read it, because it's pretty and I'm a girl and girls usually like pretty things. Plus, the whole premise of the book just sort screamed one word out at me: FUN!

And I was so very not disappointed, either.

The Lipstick Laws is sort of like Mean Girls plus Clique equals a world of fun, flirty, sabotage. Also, who doesn't want to be one of the most popular girl's in high school, sitting with the best and the prettiest girls at lunch, and hanging with them at the mall on a Saturday afternoon?

The main character of the book is extremely relatable and pretty much down to earth, witty, an all around good girl just trying to get through high school unscathed without experiencing more humiliation than possible, while trying to end up dating the hottest boy in school. Oh, and she's got to have friends.

The lipstick law's themselves, oh my lord; I don't even think I could have lived by them. I mean, seriously, I think they'd probably have to invent a few more just to accommodate me. Those laws were hilarious and heinous at the same time and way too crazy. Everyone has flaws and these girls are no exception to the rule, in fact that's why a few of these laws were designed around those flaws. The "mean girls" aren't just mean for the sake of being mean, there are reasons why they act out.

In a lot of ways, the book sort of reminded me of that old saying, "Walk a mile in someone else's shoes." It's a good message to be sending to the younger generation or anyone in general. Plus, by telling the story this way and having each of the girls invent a law wrapped around their issue, past, or whatever the case may be, it gives the story a new twist on an already older story that's been told.

For me, personally, one of the things I enjoyed most about this book, is how realistic the author wrote each one of her character's, from the mean girl Britney to the geek who actually turned out to be a hottie after all, Delvin McGerk. It was just really fun to sit back and watch the feud between the Lipstick Lawless and the Lipstick Lawbreakers unfold, with all of their crazy schemes and antics all to the tune of a Taylor Swift song, "she took him faster than you could say sabotage."

In the end, after all of the feuding, the schemes, and the crazy shenanigan's April showed that she was the better person, by taking the high road and refusing to let Britney and the leftover Lipstick Lawless lackeys ruin the rest of her senior year, when presented with a chance to stoop to her level – she simply didn't.

It was a nice wrap-up to a story that I was half afraid would end up being a bit cliché, I was very pleasantly surprised and happy with the how quickly I became engrossed with the story and just didn't want to put the book down until I'd read the last page to make sure that April did end up with the hottie of her dreams and a group of really fantastic friends to round everything out.

Oh, and the boobical cubical was pretty damn funny. I would definitely recommend this book to anyone that might be looking for a fun, fast-paced, light summer read or just in general. It gets four stars from me easily and is a book that I will re-visit every summer or at random times during the year for a re-read, when I need something to make laugh out loud hysterically and root for those crazy rebel Lipstick Lawbreaker's.