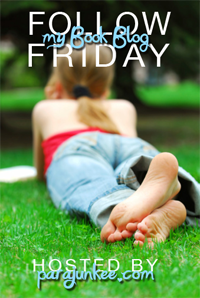 Happy Follow Me Friday, everyone! Once again, I'm late but I've got good things to say, so yeah. The long and short of it, life is crazy and reading is my life, basically. So, yeah this feature is awesomesauce.

Go here, to get the deets on it and start having some fun. It's all about meeting some new people, finding new blogs to follow, and basically just having fun with awesome people.



THE AWESOME QUESTION OF THE WEEK
What's on your current playlist?

Well, right now my current playlist pretty much consists of Florence + the Machine, a little bit of Elvis Costello (my favorite song is totally Alison), and anything pretty much Tegan and Sara, Nada Surf, Adele, just basically anything I'm feeling. I'm always putting them together, like a few months back I was in a mood for classical and instramental music so I put a playlist together strictly for that because it was getting a little distracting listen to songs with actual lyrics while I was reading because a favorite would come on and I'd be too busy listening it and not paying enough attention to the book in my hand. So, yeah...I needed to find a way to fix that.
Brought to you by the ever awesome and fiercely amazing CRAZY FOR BOOKS. Want to make a connection with a fellow blogger? Feel the need for a few new followers? Or you just want to spread some blogger spirit and love? Well, this is totally the "blogger hop" for you and you can find out how to do all that HERE.

If you find a book you love, do you hunt down other books by the same author?

I definitely guilty of doing that, because I figure that if I'm already reading one book that they've written and I really like it, what's gonna stop me from liking any other book that they've written and published? Now, I realize this isn't always the case, but for the most part it usually ends up being this way. Plus, I like to at least give any of the other books a try, and help support the author.