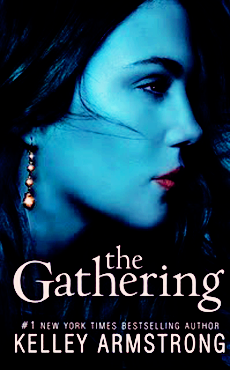 The Gathering (Dark Rising #1)
By Kelley Armstrong
b&n // amazon
"Serena stood on the rock ledge twenty feet above the lake, singing in a voice known to bring tears to the eyes of everyone who heard it. Everyone except me." (pp 01)

Summary: Sixteen-year-old Maya is just an ordinary teen in an ordinary town. Sure, she doesn't know much about her background - the only thing she really has to cling to is an odd paw-print birthmark on her hip - but she never really put much thought into who her parents were or how she ended up with her adopted parents in this tiny medical-research community on Vancouver Island.

Until now.

Strange things have been happening in this claustrophobic town - from the mountain lions that have been approaching Maya to her best friend's hidden talent for "feeling" out people and situations, to the sexy new bad boy who makes Maya feel . . . .different. Combine that with a few unexplained deaths and a mystery involving Maya's biological parents and it's easy to suspect that this town might have more than its share of skeletons in its closet.

In The Gathering, New York Times best-selling author Kelley Armstrong brings all the supernatural thrills from her wildly successful Darkest Powers series to Darkness Rising, her scorching hot new trilogy.

Cover Art by Carrie Schechter.

*Summary taken from Goodreads.
I absolutely cannot wait to paw through the pages of this book and devour it ferociously. Thank you so much, Jenny over at New Books For New Bloggers for the book I won in your recent giveaway. I have to admit that every time I went into my local bookstore I oogled this book many times, but I knew it was coming to me and when I checked my mail today the postman left me an awesome little surprise. So, yes...definitely expect a review from me once I've read this.

In other news, I'll be posting an IMM (In My Mailbox) post really soon. I'm trying to get up enough courage to do my first vlog ever, we'll see. I might do that late tonight and let it go live at some point tomorrow. So, be looking out for that. Got lots of cool stuff to talk about.