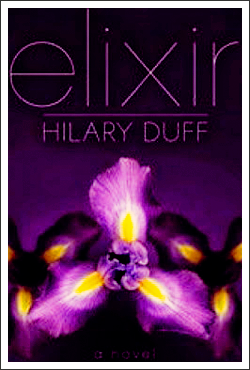 Mini-Review For:
Elixir
by Hilary Duff with Elise Allen
Publication Date:
October 2010
Publisher:
Simon & Schuster Children's
Format:
Hardback, pp 330
Age Range:
Young Adults
Clea Raymond has felt the glare of the spotlight her entire life. The daughter of a renowned surgeon and a prominent Washington DC politician, she has grown to be a talented photojournalist who takes refuge in a career that allows her to travel to the most exotic parts of the world. But after Clea's father disappears while on a humanitarian mission, Clea's photos begin to feature eerie, shadowy images of a strange and beautiful man—a man she has never seen before.

When fate brings Clea and this man together, she is stunned by the immediate and powerful connection she feels with him. As they grow closer, they are drawn deep into the mystery behind her father's disappearance, and they discover the centuries old truth behind their intense bond. Torn by a dangerous love triangle and haunted by a powerful secret that holds their fates, together they race against time to unravel their pasts in order to save their lives—and their futures.
I have to admit that I kind of wondered just how much of this book Hilary herself had written and whether I would like it or not. The flower on the cover was absolutely pretty and I love that the cover is black and purple, with just a splash of yellow to make it pop. It was definitely eye catching, that's for sure.

The book itself, was pretty good. I found myself enjoying it more than I had thought I would. Although I groaned at the whole idea of "soulmates" once I came to that part, but found myself definitely drawn into the main character's dreams, and was curious and wanted to embark on this journey of finding out more about Sage and the different incarnations of Clea. I think my favorite one was Delia.

Rayna, Clea's best friend and confidante through the entire novel, was a breath of fresh air and was not at all overbearing and was just genuinely fun to read. I wish that we could have seen her featured a little more than she was in the novel, but there's always the second one and more stories and incarnations of Clea to come hopefully. It was interesting to see the part that both her father and Ben played in this story, as well.

And at the end of the novel, I found myself sympathizing with Ben and feeling frustration towards Clea in regards to him. In a number of ways, he was just as much a victim to his story being told as the rest of them were. His incarnations had absolutely nothing to do with the present man that he is. And I found myself swayed to his side in the whole ordeal. To see his confusion and pain swept to the side in favor of hers, helped to put a damper on my enjoyment of the book.

I'm glad that there will be a second novel, because I fear that the ending of this one would have definitely affected my overall rating of the book itself. Like I said, I enjoyed the book for the most part, the character's and the story they had to tell was both engaging and very well written and dveloped, but the ending (having not known before hand that there would be a second novel) would have pretty much ruined my enjoyment of the book overall.

So, with that being said, I'm choosing to give this book three stars instead of my normal four because I feel like it deserves that. Definitely give this book a chance, I will be waiting on pins and needles, anticipating the rest of the story.