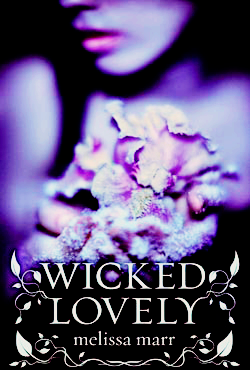 Book Review
Wicked Lovely
By Melissa Marr
b&n // amazon
Publish Date: April 29, 2008
Publisher: Harper Collins
Book Format: Paperback, pp 352
Age Demographic: Young Adult

Rule #3: Don't stare at invisible faeries.

Aislinn has always seen faeries. Powerful and dangerous, they walk hidden in mortal world. Aislinn fears their cruelty—especially if they learn of her Sight—and wishes she were as blind to their presence as other teens.

Rule #2: Don't speak to invisible faeries.

Now faeries are stalking her. One of them, Keenan, who is equal parts terrifying and alluring, is trying to talk to her, asking questions Aislinn is afraid to answer.

Rule #1: Don't ever attract their attention.

But it's too late. Keenan is the Summer King who has sought his queen for nine centuries. Without her, summer itself will perish. He is determined that Aislinn will become the Summer Queen at any cost—regardless of her plans or desires.

Suddenly none of the rules that have kept Aislinn safe are working anymore, and everything is on the line: her freedom; her best friend, Seth; her life; everything.

Faerie intrigue, mortal love, and the clash of ancient rules and modern expectations swirl together in Melissa Marr's stunning 21st century faery tale.
About a year and a half ago, I picked up a copy of Wicked Lovely because it was recommended by one of the girls who work at my local bookstore. She reads a lot of the same type of books that I like and enjoy and most of the time her recommendations are always pretty amazing. So, why wouldn't I trust her with this one, right?

The cover of this book is absolutely beautiful, I love the girl with frozen fingers holding a pretty flower with ice crystals all over it. It seemed to signify the overall feel of what the book might encompass. The blueish-purple tint seemed to draw me in, so I took a chance on this not really knowing what I was getting myself into. Even the font of on the cover, was pretty. I kind of like how there were what seemed like vines and leaves sort of coming off the words in the title and it was even that way on the spine.

The extra's, were just an added bonus. Seriously, the playlist that was included was awesome and provided a new reading experience for me, along with the author's reading list, six intriguingly different facts about her that sort of gave you a glimpse into who she is (since this was her debut novel), and a couple of other things including a glimpse of the next book in the series, Ink Exchange.

So, why then, did it take a year and a half to read this book? It's simple, really. The pacing of this book was a bit slow for me and it stagnated in some parts, plus I found it hard to connect with the main character in the series, Aislynn. I liked her, don't get me wrong, but it just seemed hard to identify with her at times. Though, in the end, I was pleased with how she was strong enough to be able to save herself, knew exactly what she wanted, and made the decision that this is how it would be.

Of course, the more that I read, I found myself becoming interested or drawn to other characters such as, Seth who was amazingly loyal and would risk anything for Aislynn, Donia who I sympathized with as far as her love and loyalty to Keenan goes, the Winter Queen who was that villian that you were supposed to hate and I ended up loving because she was so very well developed and written as far as her purpose for being there, and Niall Keenan's sort of advisor and sometimes confidante.

The imagery and prose in which this book was written, introduced me to another world that was completely original and magnificently beautiful. For that, I can be grateful even if it was a hard book for me to get through. It wasn't until around the last 70+ pages or so, that I found myself fully immersed and finally absorbed into the story. I think, maybe I was afraid that it was going to be your basic cookie-cutter standard love story triangle where Aislynn would bow to Keenan and be at his side choosing him over Seth and both Seth and Donia would be literally and figuratively left out in the cold. I'm very pleased to see that the novel didn't turn out like that at all and that Aislynn, after searching herself and realizing exactly what she had to do (that there really wasn't any other choice for her), would end up making the best decision that would fuel a little hope for all of them in general.

I didn't want to be team anything as far as this series goes, because I wanted to be able to enjoy all of the character's for whatever reasons or flaws they may have. But, I can't help but be inspired by and drawn to Donia, as I felt like she was the most realistic, relatable character in the book aside from Seth. I was truly able to feel with and for her, at the same time. Her sadness was my sadness, her burden was my own, and it was easy to see how she could arrive at the decisions she made.

There were good things about this book definitely and of course, I would recommend it to anyone who enjoys fantasy stories involving faeries and otherworldly realms. I have to say that I did find myself enjoying the melding of the modern expectations and the clash of the ancient rules that seemed to be in constant conflict of one another a great deal. With that being said, there were also a couple of drawbacks when reading the book for me personally.

What I am saying, is read it for yourself and figure out how you feel about it, where you stand as far as certain aspects and elements of the book goes for yourself. I certainly can't speak for anyone else, but at the end of the day when it's all said and done, I did enjoy the book. It just took me a really long time to get to that point. Much longer than I would have liked, honestly. So, for that reason I struggle with how to rate this book.

There were more good qualities that I felt the book possessed than drawbacks and I did enjoy Melissa Marr's unique writing style, beautiful prose and imagery the book presented, so I can be okay with giving it a three star rating easily.

I will be reading and reviewing the next book in the series, so obviously there is something about this world that has me intrigued to find out what happens next.