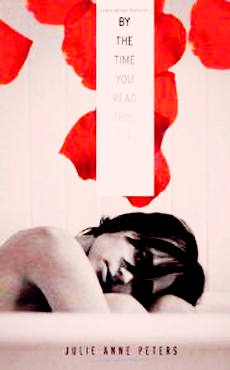 By The Time You Read This, I'll Be Dead
Julie Anne Peters
b&n // amazon
"I wake with dread this Saturday. Not that I ever look forward to waking up, but weekends are especially bad. More time alone with them, their pathetic attempts to draw me out." pp. 30.

Summary: Daelyn Rice is broken beyond repair, and after a string of botched suicide attempts, she's determined to get her death right. She starts visiting a website for "completers"— www.through-the-light.com. While she's on the site, Daelyn blogs about her life, uncovering a history of bullying that goes back to kindergarten. When she's not on the Web, Daelyn's at her private school, where she's known as the freak who doesn't talk.

Then, a boy named Santana begins to sit with her after school while she's waiting to for her parents to pick her up. Even though she's made it clear that she wants to be left alone, Santana won't give up. And it's too late for Daelyn to be letting people into her life…isn't it?

National Book Award finalist Julie Anne Peters shines a light on how bullying can push young people to the very edge.

*Summary taken from Goodreads.
I'm not that far into the book, but so far it has been really good. In a sense it is an easy read as far as picking the book up and just settling into reading it goes, but in another sense it's kind of dealing with the heavy content of a girl who has so much self-loathing for herself and who she is, that she wants to just die. She thinks that will make all of her problems go away and become the magic cure, so she goes online and she finds this website for "completer's" or people who have intents to committ suicide and who actually go through with it, complete with forums and threads that come with attached guidelines specifically not to talk a potential "completer" out of their ultimate goal - which essentially is to kill themsevles. It's really sort of wow, but relatable. Definitely.