Since I'm participating in Sarah Dessen Week hosted by the lovely The Reading Housewives and YA Bibliophile, today's Tuesday Teaser's come from two different Sarah Dessen books and also, Fragile Eternity by Melissa Marr.

This meme is brought to you weekly by MizB over at Should Be Reading.

Anyone can play along, just do the following:

01. Grab your current read and open to a random page
02. Share two (2) "teaser" sentences from somewhere on that page, but BE CAREFUL NOT TO INCLUDE SPOILERS! (Make sure that what you share doesn't give too much away! You don't want to ruin the book for others!)
03. Share the title and the author, too, so other TT participants can add the book to their TBR List if they like your teaser!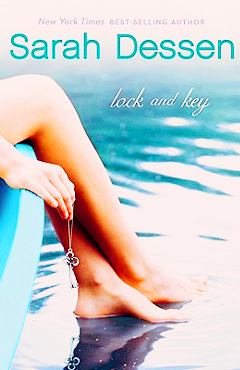 Lock and Key
By Sarah Dessen
b&n
//
amazon
"It was only then that I began to realize what would later seem obvious. That it didn't matter what I said, how carefully I crafted my arguments, even if I used every tool of evasion and persuasion I'd mastered over the years. There was only one thing that really counted, now and always, and this was it. "I don't know," I said. "She's just gone." (pp 15)

Summary: After her mom vanished in a stench of drugs and alcohol, Ruby continued to live in the family house alone. Finally found out, the introspective teenager is sent to the luxurious home of her older sister, Cora, whom she hadn't seen in ten years.

Everything there seems unfamiliar, uncomfortable, and supremely weird: her fancy new room; her lavish new wardrobe; the exclusive private school where she never quite fits in.

Most mysterious of all is Nate, the friendly boy next door who seems to have a deep secret of his own. Another subtle character-driven teen novel by Sarah Dessen, the author of Just Listen and That Summer.

*Summary taken from Goodreads.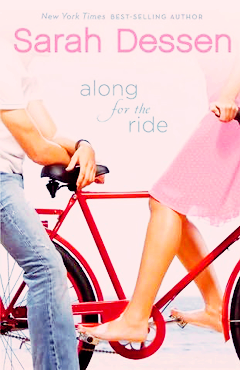 Along For The Ride
By Sarah Dessen
b&n
//
amazon
"Hearing this, I wasn't sure what I'd felt. Not relief, not crushing disappointment, and again, it wasn't a surprise. What struck me, as we sat there, the three of us, in that room, was how little I felt. Small, like a child. Which was the weirdest thing. Like it took this huge moment for a sudden wave of childhood to wash over me, long overdue." (pp 7)

Summary: It's been so long since Auden slept at night. Ever since her parents' divorce—or since the fighting started. Now she has the chance to spend a carefree summer with her dad and his new family in the charming beach town where they live.

A job in a clothes boutique introduces Auden to the world of girls: their talk, their friendship, their crushes. She missed out on all that, too busy being the perfect daughter to her demanding mother. Then she meets Eli, an intriguing loner and a fellow insomniac who becomes her guide to the nocturnal world of the town. Together they embark on parallel quests: for Auden, to experience the carefree teenage life she's been denied; for Eli, to come to terms with the guilt he feels for the death of a friend.

In her signature pitch-perfect style, Sarah Dessen explores the hearts of two lonely people learning to connect.

*Summary taken from Goodreads.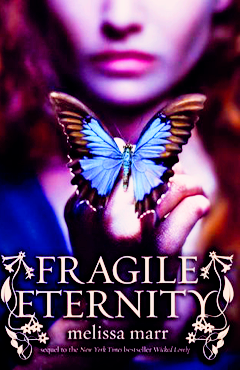 Fragile Eternity
By Melissa Marr
b&n
//
amazon
"Always in the middle...because of him. And he'd walk away from me for Ash if she'd say the word..." (pp 29)

Summary: Seth never expected he would want to settle down with anyone--but that was before Aislinn. She is everything he'd ever dreamed of, and he wants to be with her forever. Forever takes on new meaning, though, when your girlfriend is an immortal faery queen.

Aislinn never expected to rule the very creatures who'd always terrified her--but that was before Keenan. He stole her mortality to make her a monarch, and now she faces challenges and enticements beyond any she'd ever imagined.