Sarah Dessen Week
So, today kicked off the first day ofSarah Dessen week and a lot of my fellow book-dorks are participating and posting all sorts of amazing things. So far there's been a couple of massively amazing giveaways that you should totally check out.

Jacinda&Jasmine @ The Reading Housewives are giving away ALL of Sarah Dessen's books including her newest one, What Happened To Goodbye OVER HERE! And if that isn't enough, YA Bibliophile is also giving away the SAME NINE books OVER HERE too!

So, what am I going to be doing for Sarah Dessen week?! I'm hopefully going to be reading my very first book by her Lock and Key, which I've already started and even though I'm not that far into it I really am enjoying her writing style and the story itself. I'd also like to be able to at least start Along For The Ride even if I'm not exactly able to finish it.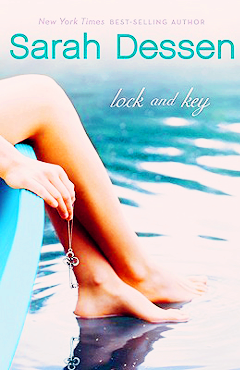 Lock and Key
By Sarah Dessen
After her mom vanished in a stench of drugs and alcohol, Ruby continued to live in the family house alone. Finally found out, the introspective teenager is sent to the luxurious home of her older sister, Cora, whom she hadn't seen in ten years.

Everything there seems unfamiliar, uncomfortable, and supremely weird: her fancy new room; her lavish new wardrobe; the exclusive private school where she never quite fits in. Most mysterious of all is Nate, the friendly boy next door who seems to have a deep secret of his own.

Another subtle character-driven teen novel by Sarah Dessen, the author of Just Listen and That Summer.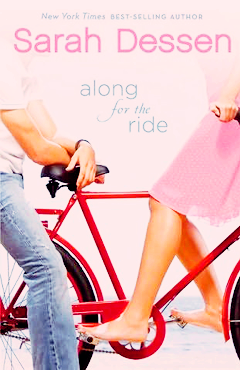 Along For The Ride
By Sarah Dessen
It's been so long since Auden slept at night. Ever since her parents' divorce—or since the fighting started. Now she has the chance to spend a carefree summer with her dad and his new family in the charming beach town where they live.

A job in a clothes boutique introduces Auden to the world of girls: their talk, their friendship, their crushes. She missed out on all that, too busy being the perfect daughter to her demanding mother. Then she meets Eli, an intriguing loner and a fellow insomniac who becomes her guide to the nocturnal world of the town. Together they embark on parallel quests: for Auden, to experience the carefree teenage life she's been denied; for Eli, to come to terms with the guilt he feels for the death of a friend.

In her signature pitch-perfect style, Sarah Dessen explores the hearts of two lonely people learning to connect.
Like I said before, I SUPER SERIOUSLY TOTALLY RIDICULOUS OVER THE TOP EXCITED about reading my very first Sarah Dessen book. I've been wanting to read her books for a months now and I finally have an excuse. Awesome!
You Might Like: