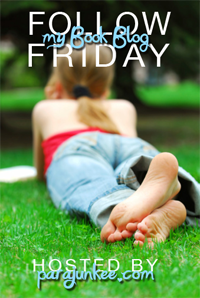 Happy Follow Me Friday, everyone! The long and short of it, life is crazy and reading is my life, basically. So, yeah this feature is awesomesauce.

Go here, to get the deets on it and start having some fun. It's all about meeting some new people, finding new blogs to follow, and basically just having fun with awesome people.



And speaking of new people, you definitely check out Al @ MAGNET FOR BOOKS, since she was Parajunkee's feature of the week.
THE AWESOME QUESTION OF THE WEEK
Circle time! Time to share. What character in a book would you most like to be, what character in a book would you most like to date?

Does a tie-in novel to a popular cult-like televsion series count? lol. I'm pretty sure it doesn't, but if it did then I would totally want to be Cordelia Chase or ya know, maybe even Prue Halliwell. But, realistically speaking, since we're talking books here my answer would have to be Rosalie Hale Cullen. Yes, people, I play for Team Rosalie FTW! Obviously not the watered down suckass movie version of her that's all wrong, imho. But, more like the kickass amazingly fantastic book version or the version of her that I've created in my own head. In any case, I want to be Rosalie Effing Hale Cullen.

And the guy I would put my hands on would be Jace Wayland from Cassandra Clare's Mortal Instrument series. Or idk, maybe definitely Eric from Charlaine Harris's Sookie Stackhouse series. Seth, at this very moment, I am currently and presently in love with Seth and Irial from Melissa Marr's Wicked Lovely series. But that doesn't stop me from wanting to put my hands all over Damon from The Vampire Diaries either.

I want too much I fear. lol.
Brought to you by the ever awesome and fiercely amazing CRAZY FOR BOOKS. Want to make a connection with a fellow blogger? Feel the need for a few new followers? Or you just want to spread some blogger spirit and love? Well, this is totally the "blogger hop" for you and you can find out how to do all that HERE.

Which book blogger would you most like to meet in real life?

This one's really easy for me, that would totally be Molli @ Once Upon A Prolouge. She and I have been really good friends for a few years now and even though we've had some amazing high's and some inglorious lows, we've still managed to remain somewhat close. I love discussing books or well, just about anything with her. It's true our opinions may differ a bit wildly on some things, but she always offers me a different way of looking at something most of the time. That is, when I'm not fighting against it. lol. She really is a fantastic person and one I love dearly. Honestly, I don't know what I'd do without her and I miss talking with her on a regular basis, but I think we're slowly working back up to that and we'll get there eventually when it's right.

So, if you want to make an awesome new friend, I suggest you go check out her book blog now. And tell her I sent you. :)